Medical service providers need to be organised in order to improve their financial performance. They need to identify and implement revenue, efficiency and business opportunities to help control costs with Medical Practice Management Services. Since medical claim reimbursement is always declining, running a medical practice has become a tricky business. You need to keep a track on your practice management habits in order to increase the profits. There are several areas which can be worked upon to make the entire process of Medical Practice easier for you. Keep on reading to learn some hacks for your practice: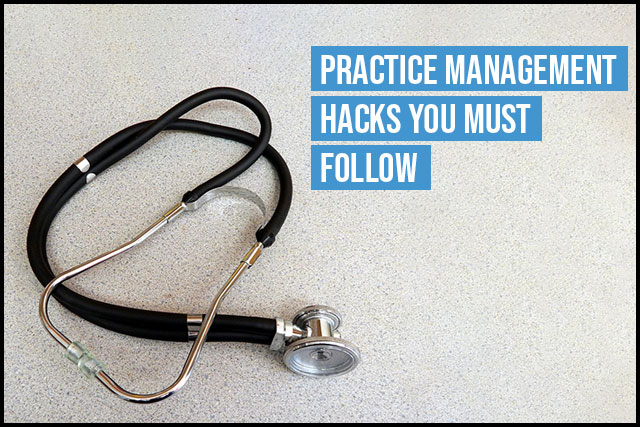 Learn to deal with underpayment
You must have dealt with some sort of underpayment yourself so far. A 2013 research by Healthcare Business Management Association stated that 30 percent of claims are either denied or ignored on first submission. Out of these 60 percent are never submitted. You can estimate the scale of amount which is on stake. There are various common reasons for denials of claim but these payments do not go unnoticed. The real challenge is when you receive less amount and it goes undetected. You can significantly reduce underpaid claims by constantly addressing clinical documentation, coding, billing and collections. An integrated approach to the whole process of practice will help in efficient aggregate, assess and apply value data from disparate system.
Collect past due from patients
Not receiving regular payments from your patients might blow a providers' revenue cycle. The  staff must be trained well in order to receive the money before they see you. Even when the staff confirms the appointment schedule the patients must be reminded about the cash they need to carry. In this way you can be transparent about the cost as well. Besides you must have a powerful medical billing software in order to make the entire process of payment collection smooth. You might also provide an instalment  based payment process for patients who cannot pay all the amount at once. Take care of your billing staff so that they are motivated and do their job well. You can also cut down all the hassle by outsourcing a medical billing company who will manage everything on their own for you.
Avoid costly scheduling mistakes
In order to cut down on cost you need to be wise with certain scheduling habits. Not only it will maximize your revenue, but it will also also make your process hassle free. You need to motivate your schedulers to use first available slots for patients. Also, you can use a system that makes finding empty slots easy. You must ensure to use a system that books the follow-up appointment right at the time of visit. In order to save time and money, invest priorly in routinely reminding your patients about their appointment. It can be done via a text message, email or a voicemail. You should also invest in a quality scheduler which makes any sort of rescheduling simple. You can also personalise your scheduling templates to show different types of appointment which eventually increases a provider's efficiency.
Use of the resources efficiently
To maximize your revenue and run your practice smoothly it's important that you use your resources efficiently. You must divide the work according to your staff's expertise. There is a need to delegate the workload in order to increase your productivity. To boost the competence of your staff you must always invest in a quality practice management software. It will help you with generating cleaner claims which would eventually reduce the number of denials in your clinic. The software should be simple to use so that all the departments can make the best out of it. Market provides you with a lot of option regarding practice management solution. You should focus on the important elements and consider any software after carefully examining its pros and cons.