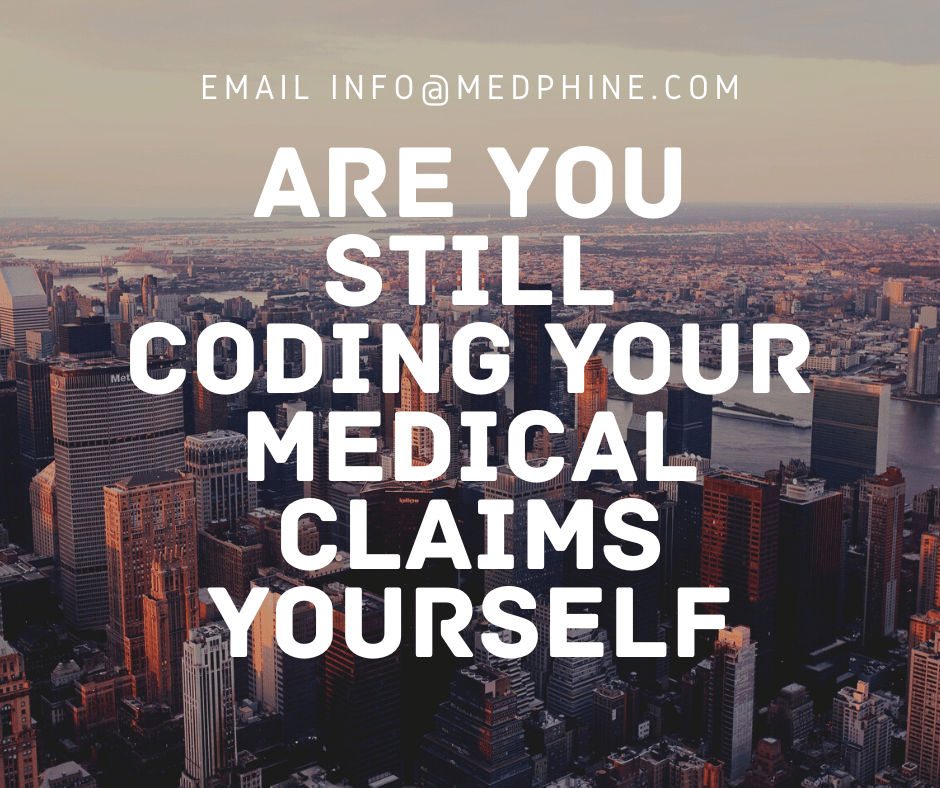 An effective revenue cycle management system must have accurate medical billing and coding. In addition to being essential for compliance, accurate billing and coding are also essential for minimizing claim rejections and denials.
————————————————————————————-
Even the smallest deviation in documentation can leave huge gaps in the revenue stream in today's value-based healthcare environment, where hospitals and healthcare institutions are paid based on the quality of care. As long as Medicare is the primary payer for hospitals in the United States, Clinical Documentation Improvement (CDI) becomes even more important.
The exponential rise in this industry will further increase the pressure on patient documentation in the years to come, with an anticipated 72 million people falling into its bracket by 2025.
The effectiveness of the staff who handle the coding and billing processes largely determines the overall cash flow of medical practice. All healthcare professionals prioritize providing their patients with high-quality care. The documentation that insures payments, however, also increases with the number of patients; as long as this paperwork is completed correctly, you should not worry.
Both patients and healthcare professionals benefit from effective billing and coding. A process for billing your claims that is properly implemented guarantees a steady revenue flow for your medical business and higher client satisfaction.
Medical Coding Market Report Coverage
| | |
| --- | --- |
| Report Attribute | Details |
| Forecast Years | 2020-2030 |
| Base Year (2019) Market Size | $15.2 billion |
| Forecast Period CAGR | 9.6% |
| Market Size of Geographies | U.S., India, Australia, Canada, Germany, France, Mexico, Italy, U.K., Spain, South Korea, South Africa, Netherlands, Norway, Japan, China, Brazil, Saudi Arabia, |
| Market Size by Segments | Classification System, End User, Geography |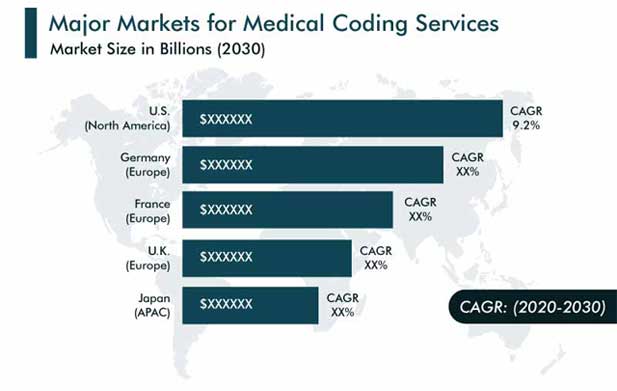 Understanding Healthcare RCM Key Performance Indicators
Reducing claims denials and keeping a healthy revenue cycle depends on your ability to use KPIs successfully. In a value-based healthcare approach, the effectiveness of the medical coding and documenting the process is key when examining KPIs. Two main factors govern these:
Productivity in Coding: Divided by the total number of records is the number of hours. The least amount of time for the most complex work is what determines efficiency. An example of an acceptable criterion for effective coding productivity is 24 inpatient coding records every eight-hour paid workday. This metric will need to be modified, nevertheless, in light of new coding responsibilities, organisational complexity, case mixing, etc.
Coding Accuracy: The number of errors is compared to the number of codes assigned to determine accuracy, with no variations desired. A policy document that assesses coding level correctness is necessary since the organisation assigns coding levels. Official guides and online coding tools serve as benchmarks and enhance coding effectiveness.
How Does Efficient Medical Billing & Coding Affect Your Practice Positively?
The following are some benefits of the billing and coding process' precision and efficiency:
1. An Efficient Medical Billing System Lessens The Strain On The Doctor And Support Staff By:
Most medical professionals and healthcare workers are overworked. Patient care takes up most of the staff's time throughout the day. The workers can become overworked if they also have to file claims. It's only a matter of time before a claim is submitted, wrongly coded, or submitted without the necessary supporting documentation. Denials result from this, which reduces revenue. With effective billing services, there are no delays in payment, and your staff is free to focus more on the patients. Bad debts and unpaid claims won't be issues anymore.
2. Aids In Preventing Medical Billing Mistakes That Could Have Negative Legal Repercussions:
A biller must pay close attention to specifics and search for the precise code for the rendered treatment when assigning a medical code to a specific therapy provided by the provider. The smallest error in a medical procedure's code assignment can result in a delay or the rejection of claims. It may even be illegal to code incorrectly. With effective and accurate billing services, you may lessen the possibility of legal repercussions while avoiding any delays or rejections for reimbursement.
3. Medical Billing That Is Accurate And Efficient Makes It Simple For Patients To Receive Care Without Having To Worry About Money, Which Ultimately Results In Patient Happiness.
Patients' main goal while visiting your clinic for any type of treatment is to receive the recommended care. They do, however, also want the payment process for the same to be simple. Since most patients seeking therapy have insurance coverage, they prefer that there be no red tape and that their claims be fully paid. With an effective billing process, your patients will experience the fewest problems possible, and your clinic will be compensated fairly for the services provided.
4. Helps Establish A Productive Procedure, Which Verifies Patients' Eligibility Promptly:
An effective medical billing system makes sure that the patient's eligibility information is checked well in advance so that the claims are not rejected and the reimbursements are sufficient. This calls for in-depth familiarity with the laws and the most recent information on insurance payments. Only a dedicated professional in the industry, such as a medical coder and biller, can be expected to be aware of the most recent changes. Since efficiency on the part of an expert biller necessitates double-checking the accuracy of the information, with the help of the billing knowledge he possesses, you can be guaranteed a minimum number of denials whenever the claims are filed.
5. Ensures Prompt Claim Reimbursement and Consistent Cash Flow For The Medical Practice:
The continuous flow of funds into the business is the main prerequisite for the survival of medical practice. Only if there are few claim denials may this occur. An effective coding and billing process guarantees the accuracy and completeness of the claims submitted for reimbursement. This guarantees consistent and prompt payment of claims and aids in maintaining the practice's general health.
Techniques or Tips of Medical Coding & Billing to Adopt to Increase Your Revenue Cycle Management
1. Manage Claims Properly
Since insurance companies are so stringent about proper medical billing and coding procedures, approximately 80% of all medical bills have problems and will probably be denied. The cycle of submission, rejection, editing, and resubmission can take weeks, and as a result, service providers frequently have to wait months before getting paid.
Claims must be accurate and complete the first time around because amending and resubmitting claims wastes time and effort. This entails accurately entering the data and verifying claims for potential problems before submitting them.
2. Right Use of Technology
The digital age has introduced many practical solutions that paper-intensive methods lack. The processing of income for the healthcare industry has dramatically increased with the advent of Electronic Health Records (EHR). Technology has demonstrated its effectiveness across many business areas, including healthcare. As a result, utilising the appropriate technology for medical coding processing, issue rectifications, and approval could significantly increase the growth of your clinic.
Every practice should search for an EHR that incorporates coding into the workflow, and every EHR should also let users select the appropriate set of codes depending on the supporting paperwork. A prominent example of efficient software is the Computer-Assisted Coding System (CACS), which helps healthcare organisations adopt a successful coding system by locating gaps in medical data and enhancing coder efficiency and accuracy.
3. Frequent Guidelines and Coding Updates
Make that your EHR adheres to the most recent code revisions. If not, take action to adapt the system to the requirements. To maintain comprehensive transparency and to improve the EHR/PMS compliance with the most recent rules, update coding standards and guidelines as needed.
These are crucial elements to update to avoid your practice applying coding guidelines incorrectly, leading to an increase in denials.
4. Conducting Compliance Audits
The foundation of a very successful healthcare practice is accurate coding. Coders are given the authority to accurately evaluate clinical documentation by using standardised codes and adhering to the necessary rules. They must assist with the quality compliance initiatives put forth by the medical practice.
A coding compliance audit can assist ensure the calibre of clinical documentation by evaluating a sample of charts for specific coders and their recorded codes. Healthcare facilities increasingly turn to a third party for coding compliance checks to address the audit knowledge gap in their practice.
Compliance reviews for coding that may help reduce the number of denials can help streamline the overall revenue cycle process.
5. Accelerate Your Documentation Process
The accuracy of the paperwork has a significant impact on how well the medical coding procedure works. Additionally, it is the simplest technique to improve the coding procedure's efficiency and raise reimbursements. Consult a Clinical Documentation Improvement (CDI) professional if your practice has trouble obtaining the required degree of accuracy in its documentation.
6. Outsource Your Coding Team
Many medical offices now routinely outsource the RCM process to improve their revenue cycle productivity. Due to the current shortage of programmers, these firms have decided to entrust the coding work to qualified hands. An outsourced coding team improves the quality of the entire revenue cycle.
Final Remarks
The advice above can assist you in improving your healthcare revenue cycle management to optimize your medical billing to maximize collections.
Medphine is a leading provider of medical billing services with extensive industry knowledge and cutting-edge technology experience. We improved the billing and collection procedures for several practices, allowing them to increase their revenue and solve their cash flow problems.
With decades of experience, we are industry leaders in component billing and coding services, providing clients from a variety of medical specialities with reliable outcomes with more efficiency and knowledge than most in-house billing staff can muster. We comprehend the nuances of efficient billing procedures for the services provided by radiology practices.
To know more, simply visit https://www.medphine.com/ today!