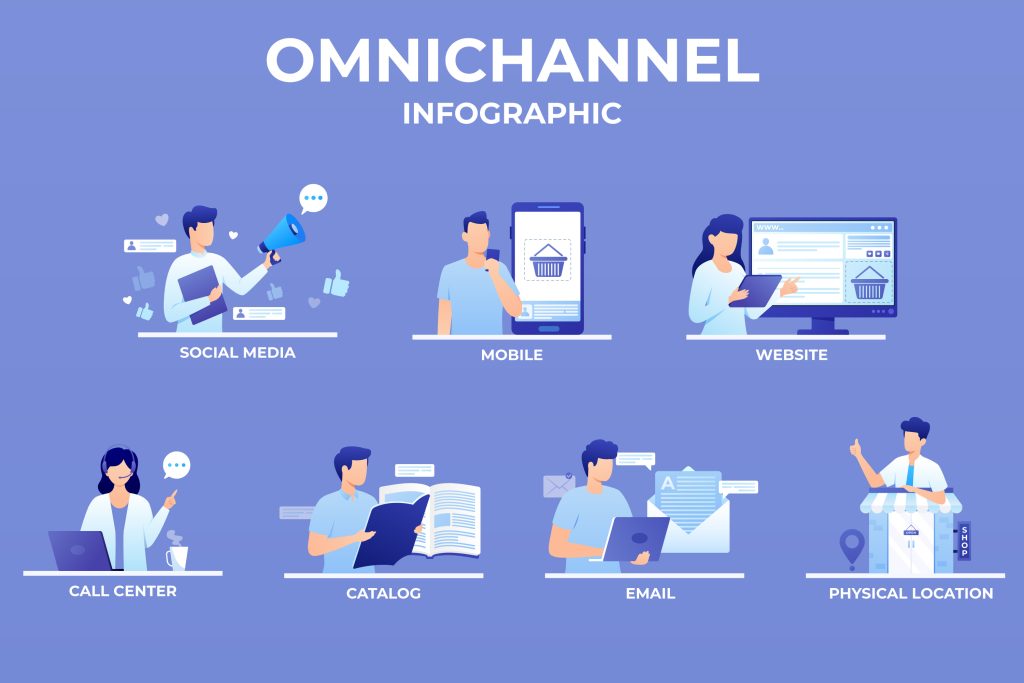 Numerous facets of daily life, including how we currently obtain healthcare and how it will be consumed in the future, have been altered by the COVID-19 epidemic.
Did you know?
The deferral or cancellation of elective procedures and the release of non-COVID patients are two major causes that are expected to result in a revenue loss of more than $323.1 billion for U.S. hospitals in 2020 alone.
In the end, this prompted the application of the omnichannel patient engagement process to provide a win-win situation for both patients and those involved in the healthcare system.
Imagine living in a society where the best healthcare is always accessible to you, 24/7, and is lightning-quick, hyperconnected, and personalized. Just think about a state-of-the-art healthcare platform that could provide all of this and more. Even though the Omni-channel model for modern enterprises may have gained popularity largely as a tool, its concepts and tactics are now spreading quickly throughout businesses and industries.
What is an Omnichannel System?
In contrast to the conventional way, an omnichannel system in the healthcare industry offers patients a variety of options for medical consultations. Numerous smartphone apps focusing on healthcare are available to assist consumers in finding a doctor, scheduling an appointment, and even receiving their first treatment. Additionally, knowing the price of creating an online doctor appointment app is crucial for firms planning to create specialized mobile applications for the healthcare industry.
An omnichannel system offers the patient a wide range of options for how to contact a doctor and resolve their issue more quickly than the conventional system. Omnichannel engagement has become a very affordable technique for patients and enables them to access the top doctor- thanks to the inclusion of mobile healthcare apps.
The benefits of omnichannel interaction in the healthcare system will now be discussed.
Benefits of Omnichannel Healthcare Marketing
Enhancing the Outreach
Even after being released from the hospital, treatment may still be necessary if the patient has a serious illness. To help the patient's caretakers at home, hospital staff and doctors must set up a communication system. The value of mobile technology in healthcare cannot be understated, whether for reminding caregivers to attend routine follow-up appointments or to remember to take their medications on time.
In addition, the omnichannel strategy aids hospital staff in documenting and keeping track of the patient's medical reports so they can consult them in the future. The procedure is expedited because there is less paper. After all, the data is safely stored in the cloud.
Filling in the Gap
Patients can receive a more seamless and customized experience thanks to an omnichannel communications system. Giving patients prompt solutions not only helps the patients but also improves the reputation of the healthcare company.
Additionally, the technology enables healthcare professionals to have more beneficial relationships with patients and will help them effectively comprehend issues.
Highly Cost-Effective
The omnichannel approach is completely paperless, extremely accessible, and inexpensive for both the customer and the company. By lowering print and mailing costs, you can avoid printing things like enrollment kits, patient directories, benefit summaries, etc. Instead, the healthcare organization can concentrate on upgrading its services and spending more money.
Healthcare service providers would be able to give solutions with greater specificity and less reliance on other services and support resources since they would have a thorough understanding of the disease history of the patients. The organization can more effectively address the disease's underlying cause with the aid of predictive analysis without burdening the patient excessively.
Now that you are aware of the advantages of an omnichannel engagement system, it is crucial to understand the procedures for putting this system into practice for patient services.
How to Incorporate an Omnichannel Strategy into Action for a Healthcare System?
Make Consumers Aware
Patients benefit greatly from the omnichannel approach, but organizations must educate them on how to use it properly. Due to its largely restricted ecology, the healthcare sector has been sluggish in accepting technological advancements.
To facilitate easy access, the healthcare institution should try to connect the patient's records and store them in the cloud. The pharmaceutical outlets should also be coordinated, and members and patients should be informed of the changes the omnichannel engagement system will bring. By making an effort and coordinating the pharmacy stores, patients would have an easier time finding or receiving the required medication directly to their homes, which would make the chain system work more efficiently.
Start Early
Adopting new technologies as quickly as possible is crucial to avoid falling behind your rivals is crucial. Incorporating omnichannel communication into the healthcare system would increase the number of people who joined your company and reassure them of your practices.
When implementing changes, ensure everything is done with careful planning and management and that nothing is suddenly thrust onto the patients or members. Healthcare businesses need to be aware that digital technology is the future of the healthcare industry. So rather than sitting on the sidelines doing nothing, making hay while the grass is still young is preferable.
Use Social Media Effectively
It's time for the healthcare industry to step up its game and fully utilize social media, just like the retail and hotel sectors have done. People, especially millennials and members of Generation Z, are more likely to utilize social networking apps now that smartphones and affordable broadband connections are more widely available. Social media apps can be the ideal platform to engage more members and make omnichannel engagement changes more approachable.
According to statistics, over 70% of HCPs regularly seek the internet for scientific research, and 65% of contemporary doctors utilize social media for professional purposes.
Additionally, social media apps can significantly contribute to organic discussions between users and organizations, elevating the user experience.
Healthcare organizations can use social media apps to sell their omnichannel engagement system as their market reach expands. They will be able to enter newer markets through this procedure and diversify their business.
Work with Seamless Technology
After all is said and done, an omnichannel interaction system is useless without a strong technology foundation. So, think about incorporating these essential components:
Marketing Automation:

 With the help of corporate marketing automation solutions, you can maintain a high level of personalization and avoid wasting your marketing efforts by using ineffective tactics. For instance, if a patient comes in with a heart condition, you can send a series of follow-up emails outlining your services about heart conditions and some fundamental ways to maintain heart health. With little effort, these emails will keep the members interested up until the appointment date.

Customer Service: 

You must have a dedicated customer service centre where patients may register and ask their questions around the clock, whether it is automated or human-centred. Voice assistants will not only make it simpler for people to communicate their issues, but they will also advance the healthcare sector to new heights.

Electronic Records: You may further streamline healthcare service lines and give patients a smooth experience throughout their treatment process by implementing EHR (Electronic Health Records).
The Challenge and the Promise of Omnichannel Marketing
By more strongly affecting the number and adherence of patients receiving therapy through integrated promotional efforts that involve them in their healthcare journey, omnichannel marketing has the potential to enhance the pharmaceutical customer experience. The pharmaceutical company's experience will be improved by this promotional strategy, allowing it to maximize spending while easily navigating all pertinent channels and stakeholders.
The advantages for businesses and their clients will be enormous. The road ahead won't likely be without obstacles, though.
Since the pharmaceutical sector has historically been sluggish in adopting omnichannel marketing, fragmented organizational structures may make it difficult to deploy a fully integrated promotional plan across channels and stakeholder audiences without encountering pushback. To enable the organization to get past the pilot and recognize the best results, a culture of optimization needs to be formed and gradually phased in (crawl, walk, run).
Final Thoughts
Healthcare will see a new era as omnichannel solutions play a dual function in boosting customer engagement levels while generating income for healthcare institutions. However, it should be remembered that good campaign management is essential because individuals are still hesitant to use technology in the healthcare industry.
For the entire transition to succeed, there must be flawless alignment throughout the system, and patients must have adequate knowledge of mobile apps in healthcare. The line will be cut through omnichannel involvement, making the patient or consumer the true beneficiary of the healthcare system.
Do you need help implementing a healthcare omnichannel approach?   
If you're looking to integrate this approach into your healthcare services but aren't sure where to start, Medphine is here to support you. 
We deliver innovative solutions that streamline the patient journey. We offer tailored software that empowers our clients to improve their service by taking advantage of digital technology. 
Reach out to us today to find out how we can help you to make your patient interactions matter.
References:
https://www.mckinsey.com/industries/life-sciences/our-insights/omnichannel-engagement-in-medtech-the-time-is-now
https://stefanini.com/en/trends/articles/how-omnichannel-engagement-bringing-shift-to-healthcare-system
https://www.physicianspractice.com/view/the-magic-of-i-m-sorry-
https://biomedgrid.com/pdf/AJBSR.MS.ID.002148.pdf
https://viseven.com/how-to-increase-the-coverage-of-hcps-with-omnichannel/
https://www.wipro.com/applications/omni-channel-model-enabling-intelligent-healthcare-for-customers/
https://www.cbre.co.in/insights/articles/healthcares-future-is-omnichannel#conclusion
https://www.qnomyhealth.com/bringing_the_value_of_omnichannel_to_healthcare_providers
https://blog.nexa.com.au/blog/bringing-the-value-of-omni-channel-to-healthcare-providers
https://www.forbes.com/sites/forbesbusinesscouncil/2022/03/22/healthcare-digital-transformation-connected-care-is-mobile-and-omnichannel/?sh=3c46f7b866fc