Filing the medical claim might take longer than desired if it's not done appropriately. If there is an inconsistency in collecting your outstanding payment then you need to reconsider the process of your medical claim submission. It is a daunting task to recover your payment from denied claims which costs both time and money. Despite all the efforts to simplify the process of medical claim payments, it has always been filled with errors. To avoid this problem, one needs to pay close attention during the claim process in order to minimise delays in reimbursement. Practitioner use the billing software for electronic submission in which even the smallest errors cause longer delays. So if you are still struggling to get paid timely then you need to consider strategies to curb the issue and get paid on time. Following are some of the practices can be used to speed up your medical billing and get your money back faster.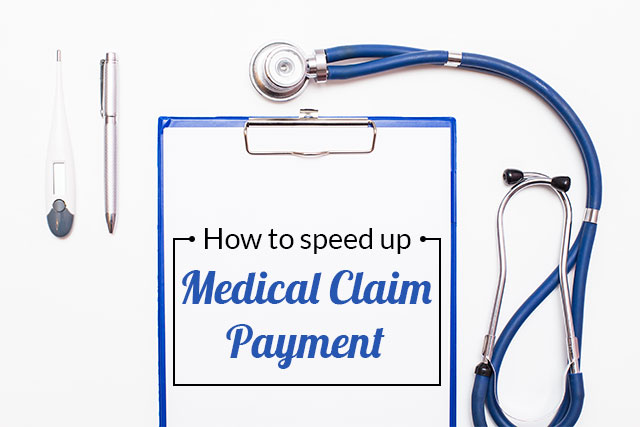 Strategise ahead of time
Healthcare providers need to be prepared in advance in order to avoid any hassle at the end moment. Billers need to perform insurance verification of every patient prior to their appointment. Patient is also needed to be informed if they do not have an active coverage. Provider's billing staff needs to be very clear about the patient's insurance benefits and what amount would be covered in it.
A survey by Kaiser Family Foundation shows that up to 6 percent insured individuals fail to renew their health insurance which in turn affects the provider, in case patient is reluctant about paying his/her bills. It is important to pre-clear patients through their government or insurance payers which includes up-to-date and accurate record of patient's insurer, plan type and contact information for a well-organised revenue cycle.
Proactive response to claim denial
Delaying the process of responding to claim denial affects the organization's profit, cash flow and functionality. Taking help from an outsourced billing team will help in identifying potential reasons for claim denials so that they can counter the issue immediately. Team needs to have a deep knowledge of of current ICD-10 codes and access to software which helps in proper coding translation. Billers should also be in charge of getting in touch with providers to get all sort of documentations including that of diagnosis, treatment and prescription. Suspicious claims have given rise to a lot of scrutiny. It might not be necessarily due to the submission of fraudulent claims but might also be a result of unintentional error. It would help in correct determination of medical necessity and wouldn't delay the process further. Investing in an outsourced specialised billing team which dedicatedly works towards claim reimbursement is the need of the hour. Billing team, whether in-house or outsourced, should have access to all the necessary information and they must follow up on any denied claim as soon as possible. An experienced billing team always helps in speeding the process of medical claim payments.
Organise in advance to avoid serious Impediment
Healthcare professionals have to ensure proper documentation and procedural follow-through of each patient who visits their clinic. Since there are various parties involved, there is always room for error. Here the billing team comes in defence. Advanced technology used by billing teams focuses exclusively on providing complete care to patients and clients. They serve the requirement of a medical care practitioner against all the challenges. Having denied claims are one of the  various obstacles which are faced by a healthcare organisation on day to day basis. The process against the denied claims should be regulated in order to prevent reduction in payments. Improved check-in procedures makes it easier for billing staff to process claims. A dedicated team can increase claim approval percentage by gaining the needed information and with excellence in billing procedure and terminology. Claim managers, who are aware of claim process and up-to-date procedures can turn the claim around in the fastest way.