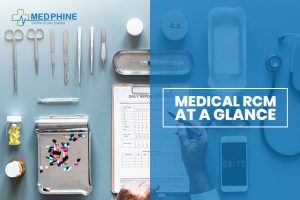 Yes, hospital, clinics, doctors, healthcare professionals are responsible for keeping people in pink of their health, but they also need money to keep their medical practice financially healthy. This is where healthcare revenue management comes into the picture.
Medical/healthcare revenue cycle management is a crucial element of medical service providers which is responsible to efficiently manage and streamline the clinical, financial and administrative process associated with the treatment of the patient. RCM is the process of keeping track of payments made by the patient and their health insurance company for providing treatment. Without an appropriate and adequate healthcare management system put into practice, no medical practice will be able to dispense quality treatment to the people in need, for long.
Has it ever occurred to you when does a healthcare revenue cycle starts and when does it end?
RCM is a cycle that begins the minute a patient makes a call or get in touch with a hospital or medical practice to book an appointment for a health concern. From pre-registration to scheduling to claim processing to the collection, healthcare revenue cycle management is an extensive process which involves intricate administrative tasks and proper communication with the insurance company and the patient to ensure that the healthcare facility is timely paid for the treatment they provide.
You must now be aware of how complicated the process of revenue cycle management is in healthcare. In their relentless efforts to provide excellent quality treatment to the patient to bring them back to their healthy self, medical practice and the staff doesn't have much time in hand to thoroughly micro-manage every aspect of the revenue cycle. This unintentional negligence ends up hurting their finances.  This is why it is always recommended to outsource these services to a proficient medical billing, coding and RCM company such as Medphine.
Medphine's team consist of certified medical billing and coding experts that have the knowledge and experience to dexterously manage and resolve every issue of medical RCM in short span by cost-effective means. This way medical practice can better concentrate on providing optimal treatment to the patient, without worrying about their financial health.
So, what are the components responsible for making healthcare revenue cycle management a success?
After all, the patient experience is the focal point of revenue generation in the cycle. From appointment booking to refilling medicines to following up for future appointments, revenue cycle management staff needs to make sure that along with providing quality treatment, enhancing the patient experience by implementing adequate patient outreach is also crucial to ensure effective revenue cycle. We have discussed in depth how a medical facility can improve the patient experience to escalate the revenue in our previous blog.
Accuracy right from gathering information, to verification of details, to claim processing and beyond is of utmost importance as this decides how much will the facility be paid. A minor error such as wrong diagnosis code can result in the claim being rejected. Accuracy is essential to ensure compliance with the standards and to collect the right reimbursement for the treatment provided.
RCM efficiency means being paid timely with cost-effective means. A revenue cycle that takes up more money in maintaining than yielding positive results can be detrimental to the health of medical practice in the long run. An efficient revenue cycle would be deemed so, when there is adequate utilization of technology in billing and coding and the delegated staff ensures that the facility is timely paid.
What all challenges in RCM call for outsourcing these services?
Every year CMS, The Centre for Medicare and Medicaid rejects a significant number of claims, which has a massive impact on the revenue of the healthcare practice. Let us discuss some of the common challenges faced by healthcare practice in adequately managing their RCM:
With the growing needs for a more evolved medical treatment and technological advancement in the medical field, healthcare facilities are becoming profoundly intricate. This unprecedented growth of hospitals has led to staff being burdened with the administrative task, resulting in fatal errors in managing the revenue cycle such as errors in processing claims or following up for timely payment.

Not every organization has a team of certified and experienced RCM professionals. The lack of skilled resources and delegating duties to inexperienced, underqualified or already occupied staff could have an adverse impact on the healthcare facility's performance.

It has been observed that if the healthcare facility successfully creates a team of RCM, billing and coding professionals, they think the facility's finances are sorted forever, and the team would get the payments. While finding a team of experts is one daunting task, accomplishing which is laudable, making sure that their knowledge remain updated with adequate training is another strenuous task. It is pivotal that the staff stays abreast with the updates in-laws, standards, diagnosis code, technological advancements to make sure that they can proficiently manage the practice's facility for years to come, with diligence and right information.
All these roadblocks impact the financial health of the medical facility, resulting in shutting down of the practice. A wise choice would be to outsource these services to an able revenue cycle management organization such as Medphine. From insurance verification, credit balance resolution, account receivables follow up, payment postings to pharmacy transcriptions and billing, Medphine is adept in skillfully handling all the intricacies of a healthcare revenue cycle management. You can trust upon Medphine in assuring your medical practice gets adequately and timely paid for your services.