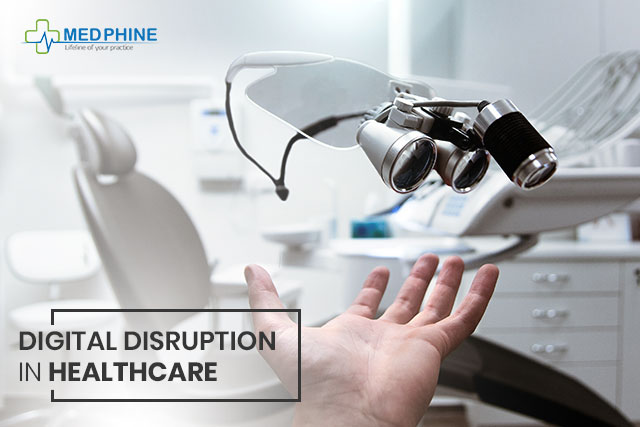 Ever-changing healthcare technology has a significant impact not only on enriching patients experience but also on how healthcare practices process.
From the invention of stethoscope and anesthesia in the early 1800s, the journey of healthcare technology has been nothing short of amazing. Digitization has played a pivotal role in mitigating the roadblocks for an efficient healthcare system, which has sped-up the healthcare practice's operations, enhanced accuracy, amplified the quality of treatment being dispensed with cost-effective means.
The revenue cycle management technologies are continually evolving and working on simplifying every minuscule entanglement in the process to streamline healthcare processing. The disruptive technologies in revenue cycle management are helping healthcare practice get paid faster, stay compliant with the standards laid down by the HIPAA and minimize the administrative burden on the medical practice.  
So, what do we mean by when we use the term "disruptive technology"?
Well, as the term suggests, it is a groundbreaking innovation or development in any field which changed the course in which the industry operates. In simple terms, when technology changes the world, it is referred to as disruptive technology.
Of all the challenges faced by the medical industry, those that adversely impact the grade of service being delivered to the patient and the revenue generation is the time that goes into conducting research for patient 's information, ensuring privacy and security of the medical information.
Given that at an average, an American spends a significant amount of their annual income on healthcare, it is only apparent that with every visit in the hospital, you will observe a new cutting-edge technology easing the process.
2017 saw artificial intelligence, blockchain and big data analytics displaying promising results in transforming the medical industry.
Big data analytics is being seen as a valuable development in facilitating early diagnosis, maximize the quality of treatment and enhance the patient experience.
Artificial Intelligence, just like how it is impacting every other sector and industry, can be used to reduce the effort, time and money which otherwise is wasted in doing extensive medical research, by storing data at an accessible place.
The security concern can be resolved by optimum utilization of blockchain technology. These three disruptive technologies have raised the standards of the treatment being administered to patients with cost-effective care.
Smart Health, an eminent healthcare event firm, recently concluded their inaugural Dubai conference "Future Technologies in the Field of Healthcare" which had prominent healthcare professionals from Asia and around the world. Medphine's co-founders Reetu  Singh and Surender Singh attended the SmartHealth Conference in Dubai, wherein healthcare and technology impacting healthcare was extensively discussed for two days.
In our discussion on digital disrupters in healthcare, it's slow but powerful impact and how is it benefitting patient in this age, Reetu said, "Digital revolution is helping the healthcare industry in keeping the medical costs as well as administrative costs under control. Likeability to consult with a physician via the internet will save the patient cost of coming and going to an office location, at the same time, it is making the concept of virtual practice possible. "
With the escalating global healthcare spending, the overall value of healthcare insurance market is also exponentially increasing. Let's have a look at three disruptive technologies that are on their way to create waves in the healthcare industry, from care to insurance:
DISRUPTIVE TECHNOLOGY IMPACTING HEALTHCARE:
The degree of precision is crucial in health care, which is where robotics can be useful in revolutionizing the procedures to attain the highest degree of precision.
While earlier, the number of untimely deaths were high because, by the time the disease was diagnosed, it was beyond treating stage. But with the advent of automation, diagnosis can be made earlier, which will give enough time to determine and start the course of treatment.
An increasing number of industries are reaping benefits from machine learning and artificial intelligence. Machine learning can help improve medical image study by enhancing the diagnostic medicine. It can facilitate proactive diagnosis with the study of infection pattern.
DISRUPTIVE TECHNOLOGY IMPACTING HEALTHCARE INSURANCE:
Almost every industry and business is now making use of chatbot technology to improve their relationship with the customer and enhance engagement, so is the healthcare insurance company. Chatbots are a way of establishing a connection and getting information and feedback from the customers quickly.
ROBOTIC PROCESS AUTOMATION:
RPA impact was evident in 2017, and it keeps strengthening with an increasing number of health insurance companies making use of robotic process automation software to streamline their administration process in 2018. Not only does it help in minimizing the care cost but also makes the processing more efficient.
Although still in its elementary stage, incorporating wearable technology to motivate people to lead a healthier lifestyle can help insurance companies incentivize health; encouraging them to invest better in healthcare insurance.
These digital disruptions have a significant impact on the healthcare practice's revenue cycle management. It is imperative to stay abreast with them and accordingly strategize the processing to ensure maximum profitability along with dispensing quality treatment to the patients.
But staying updated with these technologies and implementing them in a manner that the healthcare practice can leverage benefit out of it, needs profound knowledge and expertise. This is why it is suggested to always outsource revenue cycle management to an adept company such as Medphine.
A  provider of comprehensive medical billing and coding solutions, Medphine's team of certified coders and billers will make sure that every aspect of revenue cycle from insurance verification to denial management to account receivable is fittingly streamlined. By utilizing foremost healthcare IT tools and software such as eClinicalWorks, GE Centricity etc. We ensure that no matter what the specialty, be it behavioral or oncology, your practice's revenue is only escalating, and your complete concentration is on helping the patients become their healthier self.
With Medphine's billing and coding experts at your beck and call, you no longer have to worry about pending claims or clogged account receivables.