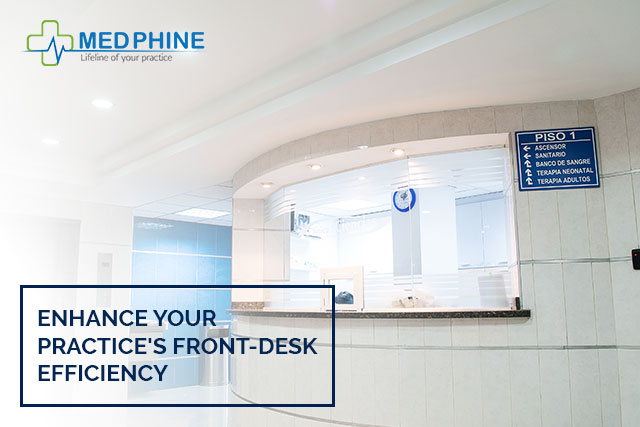 A: I will never recommend that medical practice, even to my nemesis?
B: Why so?
A: They have a pathetic front-desk staff? No etiquettes, disorganized and sheer wastage of time, visiting that hospital.
And there goes all your hard-work straight in the drain.
You know how they say, "first impression matters"?
This is apt especially for a medical practice whose patient retention depends to a considerable amount on the kind of treatment they give at the front-desk. Your patient judges your medical practice capabilities by how they are treated at the front-desk by the staff. So you can say that how efficient your front-desk is, is an essential determinant of your practice's revenue cycle management. After all, just like restaurants and e-commerce websites, people do rely upon reviews to consult a particular health care practice, and you wouldn't want your front-desk to be the reason for patient disregarding your facility, your knowledge, and expertise.
In continuation with our blog wherein we discussed the measures that a healthcare practice can take to reach out to a broader patient base, let us divulge into the importance of front-desk in healthcare practice and what all can be done to enhance its effectiveness.
The first point of contact between the healthcare practice and the patient is the front-desk staff, which are responsible for setting the tone for further operation. While any problem with the claim is only surfaced at the end of the billing cycle, the revenue cycle starts at the front desk. If the billing and coding are sorted at the front-desk itself, the revenue cycle can be streamlined effectively.
Healthcare and its processing have changed a lot in the last passing decades. While earlier all the front-desk did was issue a document for diagnosis and prescription purpose and collect consultation fee; the increasing intricacies of the healthcare practice, especially in term of finances, has resulted in spiraling of front-desk responsibility.
Now the front-desk staff takes care of patient's document verification, insurance verification (which also includes external communication with vendors, insurance companies etc.), billing and coding, appointment scheduling (the functioning has seen a surge since medical practices have started making use of online platforms), customer management, handling and resolving complaint and much more.
One of the significant mistakes made by the healthcare staff management is underestimating the importance of having an adequately functioning front-desk, which plays a pivotal role in impacting the successful processing of claims the very first time. It is essential that the front-desk staff smoothly and efficiently operate all the functions; otherwise, a minor glitch can become a bottleneck in the entire scheduling which will delay the practice's functioning, resulting in the loss in the revenue.
Tips for improving the practice's front-desk efficiency:
TRAIN THE STAFF:
It is crucial that the candidates you hire for front-desk management know how they have to be at their behavior best when corresponding with different patients, having full cognizance that whosoever is showing up at the front-desk is ailing to some degree. This is why post-hiring, the staff should be adequately trained. An etiquette training should be dispensed wherein they should be guided about how to converse on the phone, how to deal with problematic customers. Always remember that the front-desk team should be of optimal number, not too less, otherwise it will create a ruckus when they have to take care of the patient on call as well as in front.
Another smart way of lessening the fatigue of full-time front-desk management staff is to hire those interested in working part-time, who can fill up for those working long shifts and those off-duty. Having one such team as a backup will help in mitigating the burnout in employees. Job sharing is an innovative means of enhancing the performance, ensuring quality service, and increasing the turnover of the practice.
REDUCE WAIT TIME:
What is that one habit of the patient that annoys the front-desk management and affects the henceforth scheduling and operation of the practice? It's their forgetfulness of not carrying along all the necessary documents. What can front-desk staff do to avoid this bottleneck? Pre-register the patient. You should instruct the patient to show up with all the records. This will significantly decrease the waiting time and smoothen the scheduling throughout the day.
UTILIZE TECHNOLOGY:
Details are of the utmost importance in medical billing and coding. A minor mistake, say, for instance, in address details can cost the healthcare facility consequential time and money. As we all know manual work is time-consuming and leads to errors, which is why it is recommended to use Electronic Health Record and electronic patient eligibility verification. Automating these processes can help quick and error-free processing. Similarly, train your front-desk staff to be technologically adept in operating tablet and software which make appointment scheduling easy and fast.
CONSIDER OUTSOURCING FRONT-DESK SUPPORT:
Poor patient interaction because of front-desk inefficiency results in a decline in the rate of patient satisfaction, patient retention which ultimately adversely impacts the practice's revenue.
Instead of burdening the in-house team with the hassle, why not outsource a front-desk team from Medphine? Amid the several medical processing, giving the patients on call and the counter, your undivided attention can be a daunting task. But with Medphine front-desk support, you will get a dedicated phone line and a team, for your practice which will take care of every minuscule aspect of front-desk from greeting callers, to updating information to resolving queries on appointments, billing, insurance, etc.
You can trust upon Medphine's customizable and tailor-made practice in ensuring that the patient is treated with utmost devotion, resulting in a strengthened patient-practice relationship and escalating your practice's revenue significantly.
Remember, helping people in distress is a noble job but to keep serving them, you will need stable finances, the flow of which is eminently dependent on the impression your healthcare facility leaves on the patient. Outsourcing these services will help your practice and staff focus better on delivering quality treatment to those in need and simultaneously augment your profitability.