The service in the hospital leaves a big impression on the patients. They are looking for a pleasant experience. Treat your practice as a business to realize that your patients are nothing but a customer for you. You need to give the best customer experience so that they come back to you again or may even refer you to their friends and family. You always need to put some extra effort to make sure that each and every patient (and their family) that visits you are satisfied with your service.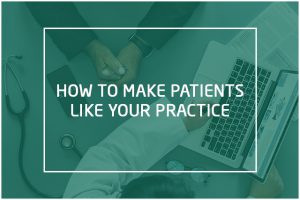 The one thing that makes your patient keep you as their doctor is how much they are satisfied with your service. Satisfied patients are not only the ones who got proper treatment, but it also includes the smooth sailing from booking the appointment till the follow up after the procedure. Anything that makes their visit pleasant, works in your favor.
There arises a question that why are we paying so much attention to a good experience for the patient? It is an age of the internet, where patients can give reviews, leave comments and share views on their own profile. Imagine a scenario where an unsatisfied patient talks about you on the internet and leaves terrible reviews. Can you imagine how much damage would it do to your practice? Even such experiences are shared by word of mouth, very soon there will be a considerable fall in your revenues. That is why we are putting so much emphasis on good patient experience. Now let us move and look at some ways that will make your patients happy and satisfied:
Smooth front-desk experience
To be honest, we all hate the hassle that we experience at the front desk. No one wants to spend hours on the phone just to book an appointment. Or even worse, when you have to deal with a rude attendant on the front desk. Are you backing off your patients on the very first experience? Learn to improve patient experience by efficient call handling.
Treat them right
Your patients are already going through a hard time. Their families are also suffering along with the patient. Be kind and gentle while handling your patients. Respect their privacy. Your patient must feel like they are your priority and you can empathize with them.
Listen to them
This is a mistake that a lot of practitioners make. They are so occupied with the busy schedules that they start taking the patient for granted. Do not make this mistake. No matter how insignificant it is, listen to your patients carefully. Answer all their queries no matter how futile they seem. Your job is to assure them that they are going to be healthy again.
Offer support
You know what a patient is going through. Make some extra effort and go out of your way to help your patient out. It can be as simple as offering them a discount or recommending another doctor for a check-up. Every effort that you make for your patient counts, and it goes a long way.  Offer support even when the treatment of over.
Keep your promises
Your patients will take you seriously only when you let them do that. Do not ruin your reputation by not keeping up your promises. Assist them whenever there is a need. You need to build trust with your patients in order to make them feel like they in safe hands.
Your patients are like your partners. Treat them like a valued partner so that they keep choosing you in future also. Treat them with loving kindness and provide the maximum assistance.