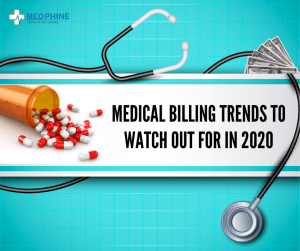 Healthcare billing 2019 was all over the news with critical issues such as surprise medical bills, which is yet to find an effective solution and changes in the Medicaid payment, which became a legislative issue. But what healthcare staff around the country are anticipating with a batting eye is the latest medical billing and coding trends that will help strengthen the revenue cycle management of their practice in the year ahead.
SURPRISE MEDICAL BILL IN LEGISLATION:
2019 healthcare headlines had a surprise medical bill where patients were billed for the services they received despite getting treated in a hospital under their insurance plan.
The government is working on resolving the issue by the state with the new state law prohibiting the practice of state-regulated health plans in Washingtons, making surprise bill a thing of the past for the residents. Congress's new plan, when implemented, will relieve the patients from paying any more money for any out of network emergency care and service that they would for an in-network provider.
CLOUD-BASED BILLING SOFTWARE:
No industry has been untouched by the impact of cloud-based applications; the same goes for the healthcare billing industry, which is still trying to navigate its way through the complexities of cloud uploads. Cloud migration is an easy way of storing, accessing, and maintaining data over the internet for streamlined processing. No longer does the healthcare staff has to worry about losing or infringement of any critical data. But while it has been adopted, major concerns are looming its future, such as privacy, data outage, which will see improvement in the year ahead. Cloud migration is necessary for data integration and to boost predictive analytics in the healthcare billing infrastructure.
DATA EXCHANGE:
Privacy, information blocking, data quality will be the focus in 2020 ahead. Safe and secure data exchange is the need of the hour, and information blocking standards need to put in place to ensure data quality and maximum security. Machine learning and artificial intelligence will be seen, paving the way for enhanced data quality.
REDUCED REVENUE LEAKAGE:
Increasing regulatory compliance, reducing reimbursements, and growing consumerism are signalling towards an exponential reduction in revenue leakage. This will help the healthcare facilities better manage their costs and smoothen their revenue cycle. Talking about proficiently managing the revenue cycle, healthcare practices need to invest in experienced professionals who do not add to the upfront investments.
OUTSOURCING MEDICAL BILLING AND CODING:
The pace at which the healthcare industry is evolving, it would be a loss of opportunity and a blunder to not keep your practice up to date with the evolving medical billing and coding landscape. But for a practice trying to ensure premium quality care and treatment, distributing time between invoice and incoming patients can be a daunting task, with the outcome of one always at risk of getting hampered. This is why an increasing number of healthcare practices are opting for outsourcing their medical billing and coding service to industry professionals like Medphine. The medical billing outsourcing market is expected to reach $19.7 billion by 2026, at a CAGR of 11.8%.
A comprehensive medical billing and coding service provider of healthcare services across the USA, Medphine deploys a dedicated team of certified professional medical billers and coders for streamlined revenue cycle management and a higher return on investment. We guarantee 99% claim repayment with 100% HIPAA compliant operations in the shortest turnaround time. Avail our 30-day risk-free trial service, without any obligation to sign a long term contract.
Ensure quicker reimbursement with Medphine!
Get in touch with our Medphine representative today and get 20% discount on our RCM services by enrolling in a January exclusive offer!