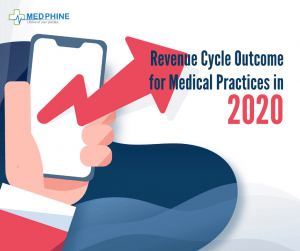 The healthcare industry is continuously changing, especially its revenue cycle with the stricter regulatory standards, shifting financial responsibility to the patients, increasing the complexity of the payer contracts. Medical facilities need to stay updated with the latest tools and techniques that can be implemented to strengthen the outcomes of the revenue cycle.
Surprise medical bills, interoperability, changes in Medicaid payment made to the headlines of healthcare billing, and coding. While the government is working on passing the bill to end or at least balance surprise medical billing once and for all, what you as the healthcare practice operator needs to work on is obtaining desirable revenue cycle outcomes.
In today's post, we are going to discuss some of the latest strategies that you need to implement in your revenue cycle processing for effective RCM and to achieve maximum profitability. 
AUTOMATION
:
Automation is the ultimate way to improve efficiency and enhance your revenue cycle outcome. Every industry is leveraging from it, and it's high time healthcare billing industry, similar to the treatment and care division, embraces it. Interoperability helped streamline the exchange of health-related information across the different entities. For quality information exchange without any compromise on the security, i.e., information blocking, healthcare practices need to start investing in AI and machine learning-based tools, which are highly anticipated in the 2020 billing landscape. Get rid of bulk paperwork and invest in automation tools for better patient collection and a well-managed revenue cycle. 
VERIFICATION STANDARDS:
A significant percentage of your revenue cycle and account receivables are clogged due to the overlooked verification process. Implement automation and educate your staff to be thorough with the guidelines and work by the book when it comes to insurance verification, as this affects the bottom line. Hold regular training sessions and make the staff aware of the latest safety and security protocols and tools which can ease the verification process so that it does not haunt the claim reimbursement process. 
PATIENT ENGAGEMENT:
We can not emphasize enough on how important it for practices to keep their patients engaged by using the right set of tools and technology. Patient engagement not only eases the healthcare process for the patients but the physician and medical staff as well. This further reflects on their productivity and revenue cycle outcome, which strengthens as the patients are engaged in a proper healthcare system. Automation, online portals, communication platforms, and more can help foster the patient-physician communication and relationship. Check out our blog, where we have discussed the importance and tips on redefining your practice's success with patient engagement in detail. Understanding patient preferences, improving patient outreach with straightforward communication are just some of the ways to ensure accelerated cash flow and smooth revenue cycle management.
The revenue cycle starts the minute a patient books an appointment with the doctor and is deemed successfully complete when the healthcare is adequately reimbursed by the patient or the insurance provider for the care and treatment. 
These tips can only deliver results when designed judiciously and implemented in the right manner with knowledge and experience. Not every practice's in-house staff will have the professional expertise to maximize revenue cycle outcomes by adequately executing them. This is why seeking the help of a professional RCM company should be your priority. 
SELECTING THE RIGHT PARTNER FOR OUTSOURCING:
Talking about outsourcing RCM, one tip that can benefit your revenue cycle outcome, in the long run, is choosing the right partner to manage your service. Take into consideration the company's credentials, experience, whether or not they deploy a dedicated team of certified professionals, the services and packages they offer. 
Medphine has a dedicated team of certified CRM professionals who hold demonstrable experience in helping medical practice- independent or multi-speciality hospitals streaming their RCM and enhanced cash flow. 
Medphine guarantees:
Compliance

Management

Monitoring

Efficiency

Cash flow
We offer holistic revenue cycle management services with dedicated managers working towards ensuring a maximum level of efficiency and quicker reimbursement, simultaneously ensuring a minimum of 70% reduction in the overall operating cost. 
We believe in our consistent delivery to the promises, which is why we are offering a 30-day free trial service without any obligation to sign any long term contract. 
Get in touch with our Medphine representative today and avail a 20% discount on our RCM services by enrolling in a January exclusive offer for a limited period!