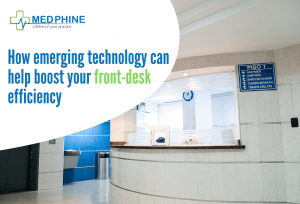 What would you say if we ask, "Where does the revenue cycle for a healthcare practice begins?"
Once the patient is released from the hospital, you might say.
No, the revenue cycle begins when the patient calls for scheduling appointments in the hospital to the front desk.
From there itself, the patient decides whether or not they will go ahead with their treatment from the respective physician or hospital.
Your facility's front desk plays a crucial role in determining the cash flow and ensuring a smooth revenue cycle.
Your front desk is responsible for:
Ensuring patient engagement
Increasing patient retention
Accurate Insurance Verification
Streamlining Patient Record Management
A mismanaged front-desk with a poorly trained staff will affect the reputation of the healthcare facility and, ultimately, the revenue cycle, with poor cash flow. Lack of etiquette, long waiting time, and overlooking other such critical aspects will reflect on the turnover of the practice. This is why it is essential to make sure your front-desk staff is adequately trained and hold expertise in efficiently navigating their way through the latest tools and technologies that can boost your front-desk efficiency. You can read more about improving your practice's front desk efficiency on our previous blog.
AUTOMATION:
Businesses across industries are leveraging from automation and its application, especially the healthcare industry. Robotic Process Automation is being used in the healthcare industry, to gain insight on patient's data and deliver quality care. Healthcare billing involves lots of paperwork and manual processing is highly prone to errors, which will further escalate in the treatment and billing. The front desk is from where the paperwork starts, and a slight mistake could jeopardize the revenue cycle outcome. Automation can help maximize accuracy by handling repetitive tasks such as scheduling appointments, filling up forms, preparing bills from scratch, creating templates, etc. Take, for instance, customizing automated reminders through text, voice, and calls for follow-ups, medication refilling, etc.
HYPER-TARGETED COMMUNICATION:
Focus on patient engagement is increasing exponentially, with hospitals realizing its two-way benefits. But no matter how large a team of front desk staff you have, reaching out to the individual patient to keep them engaged is not possible. This is why healthcare facilities need the device and run hyper-targeted communication campaigns, which will align with the shift in the healthcare model, such as patient financial responsibility, value-based care, etc. This will give your front desk the ability to deliver a patient-centric result.
ONLINE PORTAL:
As mentioned before, the front desk staff can't engage with individual patients, but not doing so could risk you your revenue cycle and cash flow. This is where an online portal will prove to be an effective communication platform. It will enable the patient to be more involved in their health care and treatment. They will be able to schedule appointments, follow-ups, check their lab results, refill medications, etc. This will significantly reduce the burden on the front desk staff, thereby not only increasing patient satisfaction but also enhancing the practice's efficiency.
Staying updated with and effectively implementing the evolving front desk techniques can be a daunting task for a facility trying to deliver quality care and treatment to the patients and simultaneously managing their revenue cycle. This is why an increasing number of healthcare practices are opting for outsourcing front desk support to a company like Medphine.
Medphine offers comprehensive front desk support service to healthcare facilities- be it an independent practice or a multi-speciality hospital to enhance revenue cycle outcomes. From appointment scheduling to handling patient queries related to bills, referrals, insurance, managing, and updating patient accounts, our customizable services are devised to enhance patient-physician relationships along with improving the bottom line.
We believe in delivering on promises and offer a 30-day free-trial service without any obligation to sign long-term contracts.
Reach out to Medphine's representative today and get a 20% discount by enrolling in our January exclusive offer.