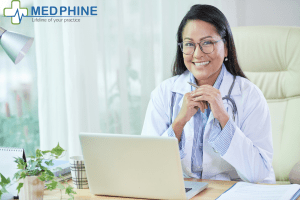 We are fighting a worldwide health emergency. Healthcare professionals around the world are relentlessly working towards finding a way to minimize the impact of COVID 19, and Medphine salutes these frontlines warriors for their selflessness, determination and undying will power to make sure we can go back to how lives were, in the pink of our health.
They say technology is a boon and will take us forward, and in this desperate time, technology is proven to be a helpful tool to healthcare organizations around the globe with the inception and implementation of Telemedicine and telehealth.
A relatively new concept, it is benefitting both the patients and physicians in gaining and rendering quality healthcare and treatment. 
But not everybody knows about this new system in detail. Understanding this, in today's post, we are going to answer some of the most commonly asked questions about Telemedicine, telehealth, and the HIPAA compliance governing its implementation.  
Telemedicine is the practice of using HIPAA compliant tools and software to dispense remote healthcare services to the patients who cannot commute to the physician's location due to some reason. It refers explicitly to clinical health services. 
Telehealth is a system that caters to both clinical as well as non-clinical aspects of a healthcare organization. It includes using the latest tools and technology adhering to the HIPAA protocols being used to render care and treatment as well as train the healthcare staff to perform better for higher productivity and increased patient satisfaction. 
Difference between Telemedicine and telehealth?
Telehealth is an umbrella term that covers Telemedicine as well as the non-clinical aspects of the healthcare system. A subset of eHealth telehealth involves imparting healthcare information, delivering care and treatment, organizing and managing training and education of the medical staff through internet and telecommunication technology. 
Where can physicians render telehealth services to the patients?
Telehealth services are made for patients to encourage remote accessibility. The Office for Civil Rights expects physicians with private practice or delivering healthcare services from home or any private setting to only use telehealth services.
If under any circumstances, the physicians are unable to provide telehealth based services in a private environment and have to go with a public or semi-private setting, then they need to make sure the same is provided with HIPAA or cautionary measures in place.
Confidentiality of the patient's health-related information should be maintained. There should be no speakerphone; conversations should be held in lower voices. The session should leave no room for disclosure of PHI. 
All telehealth services, right from diagnosis to giving prescription and reviewing patients reports, can be provided by the Notification of Enforcement Discretion. 
Which HIPAA rules are applicable for the remote telehealth communication and notification of enforcement discretion in terms of COVID 19?
If there is any breach of HIPAA rule during the COVID 19, occurred in good faith, the physician and the healthcare facility will not penalize it.
But this should be kept in mind that the notification is not an application to the area outside of the telehealth service in this state of emergency. 
What is the expiration date of notification of enforcement discretion in terms of COVID 19 and remote health communication?
Depending upon how the things unfold and the scope of the benefit of telehealth, the expiration date will be declared, and healthcare organizations will be duly notified. As of now the notification of enforcement discretion does not have any expiration date 
Will it be termed a violation of HIPAA security rule if a covered healthcare provider is utilizing telehealth services during COVID 19 and electronic health record software? 
Telehealth services rendered under proper faith provision will not be liable for a penalty if there is any breach of the protocols at this time of nationwide health emergencies.
While the service providers are asked to use those telehealth services that adhere to the HIPAA guidelines, such as using a video conferencing tool that ensures privacy, electronic record software with encryption but if the physician can't provide the same at this time of COVID emergency, they will not be held responsible.  
For any further questions regarding telehealth and telemedicine reach out to Medphine experts today!
Disclaimer: All the information provided on this article is provided on "as is" and "as available" basis and you agree that you use such information entirely at your risk as the author reports no relevant financial relationships. Government and payer policies in response to the coronavirus crisis are changing rapidly, so we recommend that you follow the CMS, HHS, CDC, and other relevant COVID-19 & Telehealth webpages frequently.
HIPAA Compliance and legalities are highly complex and fact-specific, they require legal expertise that cannot be provided in this article. The information in this article doesn't constitute and should not be relied upon as legal advice and should not be used as a substitute for obtaining personal legal advice and constitution prior to making decisions.