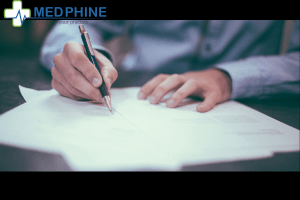 The world is at its knees with the COVID-19 pandemic affecting every corner and taking human lives by the number of thousands every day. But what's keeping us going through this together as one, physically and mentally are the healthcare workers, doctors, nurses, volunteers, first responders, and their relentlessness in fighting against this disease. It's their spirit to serve humanity and they are true to their oath – Medphine salutes this.
It's been over a month now, and the healthcare staff is battling COVID-19 every day with the same determination- working long hours, putting themselves at higher risk, not going home, not being able to see their loved ones, to treat those contracted with COVID-19, doing everything in their knowledge and power to make sure they go home healthy and safe. 
This is a tough time, especially to keep your practice financial health stable, even more so when you have patients for whom you are rendering services that are out of the network. While the healthcare authorities have relaxed the restriction, billing for out of network service providers is still a challenging task. 
Comprehending this, in today's post, we are going to discuss the risks involved in the out of network billing along with some tips to maximize the bottom line. 
Insurance companies try to take advantage of the confusion surrounding the out of network billing and undercut the payment of the claim by giving vague explanations. Lack of documentation and verification is a mistake on the part of the physicians, which encourages the insurance companies to do so. 

Appealing delays in the out of network billing is significantly difficult, with insurance companies unwilling to cooperate and always on a look-out for every possible way to limit the payment. It is more important than ever to appeal the delays, denials, underpayments, low payouts in case of out of network billing claim to ensure timely reimbursement. 
Tips for better out of network billing
Establish compliance guidelines:
Have a dedicated financial policy in place, with compliance standards and protocols. Make it a point to mention these specifically to your patients when you bill out of network, as it can make the journey to collection easy without any confusion from both the ends. It is also important to not overlook the basic billing guidelines – bill as per the CPT codes, and be mindful of the few reductions. Don't offer discounted bills or discriminate between the patient and insurance carriers as that might lead you to being served in the court of law. 
Make sure your billing staff has clear guidelines on how to bill the out of network patients keeping ethics into consideration. Since different patients will have different deductibles and cost-sharing amounts, it is pivotal that your facility has consistent guidelines for billing out of network patients. 
Out of network service providers can itemize their bills as superbill given to the clients, which they will submit to their insurance company for payment. It is important to make sure that it carries all the necessary information like diagnosis, CPT codes, all the information about the insurance company, demographic information of the patient. 
Outsource out of network billing process:
One of the wisest choices to make at this time of unprecedented crisis is outsourcing out of network billing to a credible biller like Medphine. We have a dedicated team of trained, certified, professional billers who hold expertise in successfully getting reimbursement for facilities rendering out of network billing service. We guarantee transparency, compliance, accuracy, and timely payment in the shortest turnaround time. This will reflect the accelerated cash flow and streamline revenue cycle. 
We are offering a 30-day trial service without any obligation to sign up for a long term contract. 
Reach out to our out of network billing specialists today!