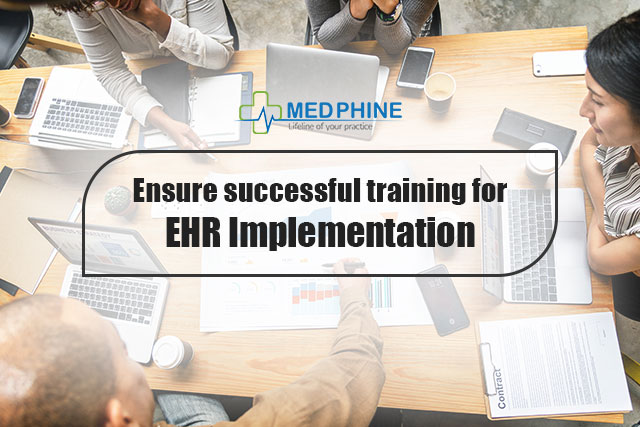 In one of our previous blogs, we discussed what steps can a healthcare service provider take to ensure effective implementation of Electronic Health record. One of the pointers mentioned in it was to designate a leader that will provide smooth management of the newly implemented EHR.
In continuation with that we will be discussing today, how can the team be trained to ensure successful implementation of Electronic Health Record in your medical practice.
If you are a medical practice still keeping paper records and documents, it's time you switch to EHR for enhancing the efficiency of the operations and productivity of your staff.
Why should the staff be well-accustomed with the technology?
EHR, after-all is a software, before working on which, one needs to be accustomed to the functionalities and adequately trained to gain a hang of it. Without adequate training, not only will the implementation go haywire but it will also have long-term adverse effects on productivity and revenue generation. Lack of training is one of the significant reason behind the ineffective utilization of EHR in medical practices.
What training strategies will ensure effective training about EHR use?
Who is going to be using the system; doctors, nurses? Guide them through the specifications of the system along with their application, as they better understand the needs and demand of the medical practice. Let them shortlist the system accordingly and present their ideas on how best can this system be utilized by the staff.
Post-selection, check how computer savvy is your staff. Since post-implementation the team has to work on the computer, it is necessary to identify the one who is not adept and framework an adequate basic computer training program so that they can do more than just taking photocopies and printouts.
Like there are those who have a hard time understanding the intricacies of the computer, there would also be fee staff members who would be proficient in it. Identify those and assign them the complicated [processing of the software.
It will help you in the long run if you start a real-time practice to reduce the risk of EHR implementation failure., which is why it is essential to create an office and software -paramount training.
With the growing capabilities of the employees, the basic training will no longer remain relevant which is why it is necessary that periodic intermittent refresher sessions are held, and as the employees develop and learn more about managing the medical database management system, advanced training is brought into action to enhance their efficiency and practices productivity.
You can ensure heightened efficiency by training particular employees on only those areas that they are going to work on. Training every single employee, every intricate aspect of the software will affect the productivity and functioning of the staff. It would be better if those excelling in computer skills are given more computer job and trained on it specifically.
And last but not the least, encourage feedback sessions post-implementation, so that you know which employees are having trouble and what changes can be brought into the training session to resolve it effectively.
A more wise and cost-effective decision would be to outsource a company for managing your medical billing and coding like Medphine. Medphine has extensive experience in handling EHR of general as well as specialty-specific physicians be it Oncology, Chiropractic. Our Team of billing experts and certified coders make use of the most acclaimed software for handling clinical records, i.e., eClinicalworks, which is being trusted by over 60% of providers in the United States for generating error-free clinical documents and maintain a healthy database. You can trust Medphine's for streamlined, error-free billing management, per your practice's needs and demands.