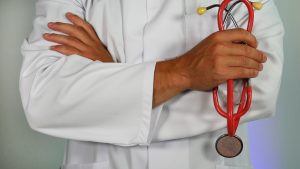 Physicians have a lot on their plate to attend to. From ensuring every patient that visits them goes home with the assurance that they will return to the pink of their health to making sure insurance companies are timely making the payments for the services they are rendering to the covered patients. 
The struggle is way worse than what can be put into words. What can help in this time are a set of online tools that would automate the administrative tasks and streamline the operation of a healthcare organization. 
In today's post, we will list some of the latest and useful online tools that can help the physician boost their productivity and strengthen their system in the long run. 
Let's begin with the basics. The facilities need to have their website. Considering people look for hospitals near me on their mobile or laptop, the minute they face any health issue, having a website is critical to the business. WordPress is undoubtedly one of the best, easy-to-use content management systems that will help you create a secure website. The tutorials and free design templates will help you as your website grows to change with time and attract more patients. 
Medicare Access and CHIP Reauthorization Act keeps on updating the reforms with the changing healthcare landscape. Keeping up with it by regularly checking the web site can be a tedious task. Understanding the physician's predicament and to free them of this back and forth, AMA has designed an assessment tool, Payment Model Evaluator, who will help you determine whether or not your practice is compliant with the latest standards and protocols. This will keep your practice from landing into legal trouble. 
Are you having trouble keeping track of all the drug information, prescription guides? Physician drug reference should be your go-to tool to get any latest information on the medication, reforms, and any update which affects the processing of your practice. The physician desk reference can help medical practitioners stay up to date and compliant as a mobile app and an online tool. 
Not just for corporations or personal use, but dropbox is a great tool for physicians to securely upload, save, and share confidential medical documents online. Upload the doc and share it across your team as and when needed with dropbox. Similar to dropbox, there is Box.com, and both offer packages that implement public health record compliant processes to save and share data online. For using Dropbox without breaching the HIPAA standards and protocols a Business Associate Agreement needs to be signed between Dropbox and the entities covered under HIPAA, before uploading any PHI file on the tool. 
One of the leading social learning and collaboration platforms, QuantiaMD helps doctors from across the world connect with and learn from doctors across the global platform. This also guides doctors and staff to better manage their facility, and subsequently positively impacts the overall patient satisfaction and hospital satisfaction score. QuantiMD has helped boost the hospital management and satisfaction score by minimizing the readmission rates and significantly reducing the physician burnout which we all know takes a toll on the entire practice's efficiency and patient's condition.
A clinical decision support system, VisualDX helps physicians make a well-informed diagnosis and prescribe accurate medication and start the right treatment. This tool has garnered positive response for providing physicians with a quick way to diagnose unusual conditions or disorders. It has been successful in significantly reducing diagnostic error and enhancing the patient experience. 
Get real-time current safety diagnostic information on your mobile with Epocrates. An app to ensure doctors deliver quality care and treatment, Epocrates is massively used by medical practitioners as a reference app that helps them in-depth information about the disease, guidelines.  
This tool has served over twenty years as one of the leading EHR, RCM, and patient pollution management tools, helping thousands of physicians on an everyday basis. An easy to use, affordable, and integrated solution. If you ever plan to outsource RCM, it is always advisable to consult a credible company with proficiency in multiple leading practice management software including eClinicalworks. This multifaceted tool helps physicians increase the quality of care and enhance efficiency. This will ensure accuracy, compliance, management, and a streamlined operation in the facility.
Why strain your eyes looking for specialists in your field when you have a dedicated social community. Doximity is where you will be able to connect with and engage in discussion with over a half a million healthcare professionals. Bringing professionals together for case collaborations, this tool helps in various ways. Why waste time roaming around when you can access information on a mobile device. This will give you more time to dedicate to the patients. It's a mobile library that will help you find any and every medical literature that you need to research on your cases. So now you know it's more than just a standard social community. 
In this web browsing world, online reputation will decide whether or not your practice will survive. To build and strengthen your online reputation, doctors should go for Mention. As the name suggests, wherever your name or practice is mentioned on this platform, you will be able to see it. Positive feedback will help you grow your patient base, and you can always address the negative feedback to display how much you care about your patients. 
Is the in-house team tired of managing paper stack and invoices? Have you been noticing a pattern of manual error in the expenses and submission made for taxes? Then how do you manage the time between paper and patient? With Expensify, you don't have to. This is a single platform where you can manage and streamline your taxes every year, being assured of the accuracy and compliance. 
These were the eleven tools we found that could help healthcare professionals better manage their facility and spend more time treating the patient and less time on documentation and keyboard. If you know of many such other helpful tools, feel free to add them in the comment section below for our and the reader's enlightenment.
————–
Disclaimer: All the information mentioned above are for educational purpose only. Make sure you use the tools only after you gain complete insight into the implementation and impact. Medphine takes no responsibility for practices using it without proper caution or full understanding.