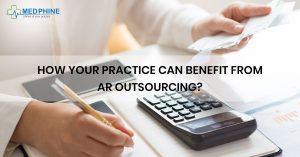 Is your account receivable out of control?
Are you unable to unclog the pending accounts?
Is your overlooking starting to impact the cash flow?
It's time you identify what is disrupting the AR management and why you must outsource services.
CAUSES OF AR CLOGGING
Improperly claimed services;
Errors on billers and coders part can lead to uploading of inadequate or wrong information. This not only changes the billing amount but upon verification could lead to denial or rejection of the claim. Not addressing it immediately could lead to clogging of claim in the cycle, which will add to the old AR escalations.
Incorrect quality of allocated services:
If the services rendered to the patient are undervalued or overvalued on the documents, it will reflect in escalations such as delay in claim processing or medical facility being paid less or more. An aware patient might ask for an investigation of the claim if they are being charged higher than what was expected. Unnecessary write off will also disrupt the calculation in the balance sheet.
Extra information:
Not reviewing ever record properly to segregate and upload only the necessary ones can add to the reasons for claims being denied. Your AR team should be well-versed in promptly identifying which information is necessary for claiming the reimbursement.
Duplicate claims:
Result of manual error, duplicate claims are one of the most common reasons behind AR mismanagement and claims resubmission. Not only do they add to manual work but also lead to a claim denial, delay, or rejection.
Incorrect or missing UPIN:
Any mistakes in the details of the physician who has dispensed the service or patient's health-related information will disrupt the revenue cycle processing by days or months. Missing unique identification physician number and other critical details will lead to unnecessary back and forth in the claim. Similarly missing or uploading incorrect identifiers/codes/ modifiers can disrupt the claim processing, resulting in denial or delay. It's extremely important for the team working on account receivable or any aspect of revenue cycle management to be extra cautious when uploading patient's health-related information, physician's details, diagnosis code, service code, CPT procedure code.
HOW CAN OUTSOURCING HELP?
Collections:
The longer it will take for your in house team to get the collection, the difficult it would become to recover the amount. An outsourced agency will have the latest tools and technology to automate AR tasks and clear the pending dues of months and years. An outsourced agency will ensure faster collections. The sooner you will be able to close the books, the more money you'll save.
Patient's experience:
An outsource agency's dedicated team will simultaneously clear up old accounts and manage present ones so that there is no delay.
Faster collections and quicker reimbursements will not only help the medical practice stay financially healthy, but it will also keep the patient's stress-free. Knowing that the particular hospital is quick with their billing processing, they would prefer their service over other hospitals. Enhanced patient's experience is important for a facility to be able to render quality services for long.
Higher ROI:
With an outsourcing company working round the clock to clear up AR clogs, the billing and payment process will be streamlined, and the integrated collection system will ensure a higher return on investment.
Saves time and money:
Their knowledge and experience will clear the AR of the age-old clogs, helping speed up the reimbursement process with the insurance company.
With the outsourcing team managing AR troubles and in the house no longer greeting over the surpassing AR, they will be able to invest their time in a better way to achieving core objectives of the medical practice i.e., dispensing quality care and treatment to the patients.
Outsourcing will further save money and other crucial resources that were otherwise drained in implementing strategies that had a trial and error approach.
TIPS TO OUTSOURCE THE RIGHT AR SERVICES
Wondering what parameters will help narrow down your search for a credible AR outsourcing company?
Allow us to help you with the qualities that you need to look for:
They should have a dedicated team to manage the account receivable concern efficiently. Don't go for a medical and billing company that boasts of having one team that is master of all RCM intricacies. A dedicated team will have the knowledge of promptly identifying and resolving any minor issue in the AR.
The agency should be transparent; whether it is their price policies or how do they plan to resolve your AR crisis. You should be aware of every step of how are they working on improving the health of your revenue cycle. Similarly, there should not be any hidden cost, which they might put in their monthly or annual bill, revealing all the services that you up until thought were a part of the plan.
Every agency has their set number of average days in AR. This varies with the complexities associated with the billing and coding of each speciality. Make sure that you beforehand know what the average days in AR for their speciality are.
Whether or not do they follow the rules and regulations laid down by the governing authorities such as HIPAA? It is important to make sure that every process is compliant to the evolving standards. The agency needs to make sure that their team is up to date with the codes and regulations. Risking compliance would lead to you paying hefty fines, and there is always the looming probability of a legal battle.
Why risk something as complex and integral as Account receivables with an in-house team that is only capable of generic billing and administration?
Outsource to a proficient RCM agency like Medphine, whose dedicated team of AR specialists comes with the knowledge and experience to efficiently manage and resolve the ageing reports. From AR analysis to appeal and claim resubmission to follow-ups and denial management, Medphine team of trained and certified professionals will devise tailored strategies ensuring 10-20% of revenue growth.
Streamline the RCM by draining out the clogged Account receivables today, with Medphine!
Reach out to leverage from our 30-day risk-free trial service without any obligation to sign up for long term contract and watch as we gradually improve the health of your revenue cycle.