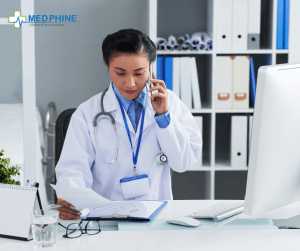 Wondering why your healthcare facility should outsource?
With the increasing population, the need for advanced medical facilities and healthcare treatment is exponentially increasing. The healthcare organizations and medical practitioner's first duty is to attend to and deliver quality treatment and care to the patients. But to be able to do so, they need a robust financial and revenue cycle management system.
A streamlined RCM guarantees that doctors and the medical staff will be focusing more time on patients and finding ways to treat the disorders instead of typing invoices on the keyboard and anticipate for the reimbursement in the medical claim made for the services rendered to the patient. But this can be a challenge for the in-house team to keep a tab of and manage efficiently, given the lack of resources, knowledge, experience, and training. This is why healthcare outsourcing is becoming the need of the hour.
Research and market reports by Healthcare RCM Outsourcing Market on the latest trends and growth suggests that the healthcare outsourcing market was a total of US$ 11.7 Billion in 2018, and is expected to grow at a CAGR of 11% by 2024. This possibility of expansion is a testament in itself to the significance of healthcare outsourcing in the evolving medical landscape.
Outsourcing some functionalities or the entire healthcare revenue cycle management system can help the facility in many ways:
DEDICATED TEAM:
Seldom this happens, that an in-house RCM team comprises of speciality-specific professionals. There is one team that takes care of the revenue requirements of different medical departments, which can be a challenge that can turn into a financial disaster soon. You might end up in legal trouble or in a problem with the insurance company, putting your revenue cycle to a halt.
Outsourcing companies like Medphine provide medical facilities with dedicated team managing as a single process, be it insurance verification or medical billing and coding. This ensures a higher level of accuracy and efficiency, increasing the chances of claims getting processed in one go.
CONTROLLED COST:
Your generic in-house team might lack the specific knowledge, experience, tools, and techniques that are required to streamline the revenue cycle management of your practice. This would lead to wastage of potential and significant money on unnecessary resources.
RCM Outsourcing to a dependable company can assure that every claim is being paid at the right time, and every investment made in outsourcing yields a higher return on investment.
Medphine will guarantee maximum revenue and reduced overhead cost to your healthcare facility.
NO INFRASTRUCTURAL INVESTMENT:
HIPAA, HIS, CMS, and other prominent healthcare managing bodies of the country routinely roll-out codes, rules, and regulations, policy changes, etc. This means the in-house RCM team needs to be regularly given adequate training sessions to keep them in pace with the changing scenario.
But imagine the periodic investment of time and money that your healthcare facility has to make? It will add to the financial burden.
Why not outsource healthcare management to an organization who will bring with them the required latest tools, software, and techniques to efficiently manage the internal processes?
TACKLE SEASONAL WORKFLOW:
How do you manage when most of the medical staff is on leave?
Similar to any operational unit, healthcare also has a peak time during the end of the financial year when they have to report every claim and payment made to the authorities. Outsourcing this seasonal work to an agency can help minimize the financial burden. Outsourcing can be of advantage when the facility is lacking manpower.
Tips for effective outsourcing
TRANSPARENCY: It is important for both the healthcare facility as well as the outsourcing organization to be transparent to one another in terms of what is the current situation of the facility's existing revenue cycle, what are its objectives, how will the goal be achieved, how are the processes delivering, etc. Transparency will help in establishing and achieving realistic goals.
COST: Quality over cost, always! We can not emphasize it enough on how you should never just hire a company because it is claiming to detangle and streamlining your revenue cycle at a rate lower than the standard one. It should always be quality first. Check on their credentials, experience, reviews, and then sign in the paper. Outsourcing RCM s a long term and expensive investment. So sure we are of the effectiveness of our procedures that we are offering a 30-day risk-free trial period of our RCM services, without any obligation to sign any long term contract. There's no harm in trying free service, right?
PAYMENT MILESTONES: Before you go ahead and sign the contract, it is important to make sure that all the milestones for how and when are the payments to be made is clearly defined with the completion of every process of the project so that there is no back and forth and subsequent delay in revenue cycle management.
When Should You Outsource?
Is the quality of the treatment getting affected?
Are you unable to give your patient the required time of attention?
Have you been struggling between keyboard and writing prescriptions?
Your patient deserves a good standard of care, but you need a streamline cash flow to keep the facility up and running. Managing both can be a challenge, and if it overwhelms you, it's time to outsource healthcare RCM.
Is your staff unable to manage the revenue processing?
If your in-house team is wearing a lot of hats and managing a number of roles functions, there is a strong possibility that this will have an adverse impact on the revenue collection. The reduced cash flow will have a long term negative impact. Outsourcing healthcare RCM to a credible company will ensure operational efficiency, and you will be able to maintain clinical quality.
Are you facing regulatory issues?
HIPAA violations fines can go from $100 per record to $1.5 million per year per violation.
Healthcare organizations have to adhere to the rules and regulations laid down by CMS, HIPAA, and HIS, breach of which can lead to you being liable to pay hefty fines or be at the receiving end of a legal battle. It can be difficult for facilities to keep a tab on the changing regulation and accordingly modify their procedures for compliance. Outsourcing these services to RCM companies who have certified and dedicated team members to make sure that every process that is being followed is compliant with the latest policies.
Medphine dispenses comprehensive RCM solutions to healthcare practices across the United States, guaranteeing maximum profit.
Reach out to Medphine's representative today!