Physicians suffer a lot due to declining reimbursement which is a direct result of an error in medical billing. The average that healthcare industry loses every year because of mistakes in billing is not clear but it is very evident that the money at stake is staggering high. To be able to manage the finances smartly, physicians need to proactively look after their medical billing process so that they can avoid any kind of delay or confusions.
The financial success of the medical practitioner depends a lot on the members of the team. Each one of them has a pivotal role to play. Even a seemingly negligible billing error can cause loss of a huge amount.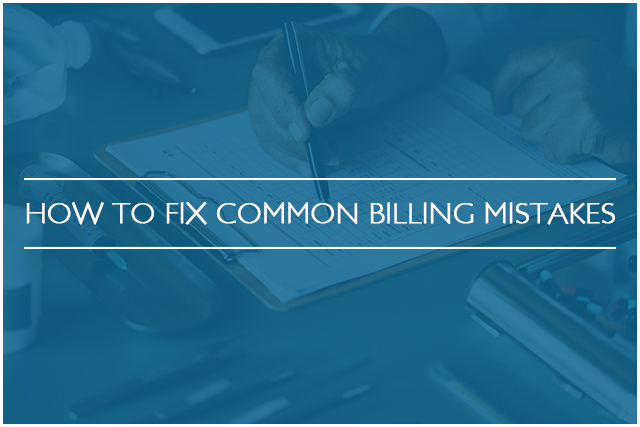 With all the responsibility, it is difficult for the physicians to take care of the administration as well. It leaves them with the better option of outsourcing to an RCM billing company. Experts can identify the root cause of billing errors and how to manage potential threat. You can also fix some of these issues by yourself. These billing mistakes can be combated by basic amendments in the daily routine of the administration of physicians.
Most Common Billing Mistakes
Lack of basic information
Duplicacy in claim submission
Mix-up in procedure codes
Services not covered by Insurance
Delay in filing medical claims
Ways To Fix Your Common Billing Mistakes
Keep A Close Watch On Your Codes
Coding mistakes are frequently recorded in medical billing. Not only it is a threat to your business as patients might be deluded by an increase in the number of reports in errors of coding. It can also get you in legal trouble if you overcharge a patient because of increasing complexities of coding. You need to have an updated code lookup software to check your codes which minimizes any potential chances of wrong coding entry.
Data Analytics
Correct data is an integral part of the modern healthcare system. Even if you need to give it extra time and money, it is totally worth it. Data analytics gives you a precise statistics about where and how you are losing revenue in business. When you submit a rejected claim and subsequently submit the denied claim, it is going to cost you way more time and money. So ensure that your patient data is accurate.  If you store all the verified patient information in EHR system, the billing mistakes will become less frequent.
Minimize Common Denial Problems
If you keep a track of the submitted and denied claims, you will save yourself from legal battles against them. It is important that the Medical practitioners record the inflow regularly.
Same goes for correct credentialing and correct patient information where you can fix common denial problem just by becoming careful about these. You should also verify patient's eligibility and insurance. It will clarify all the benefits that the patient is eligible to exercise. You can read this blog where we talk about claim denials and its solution in great detail.
Don't Chase Payments
You might not necessarily be able to collect your money from patients if it hasn't been paid after the first bill. It just costs you time and money, and the efficiency of your staff comes down. The best way to deal with the loss of revenue is to do a cost accounting analysis and learn where have you been losing money.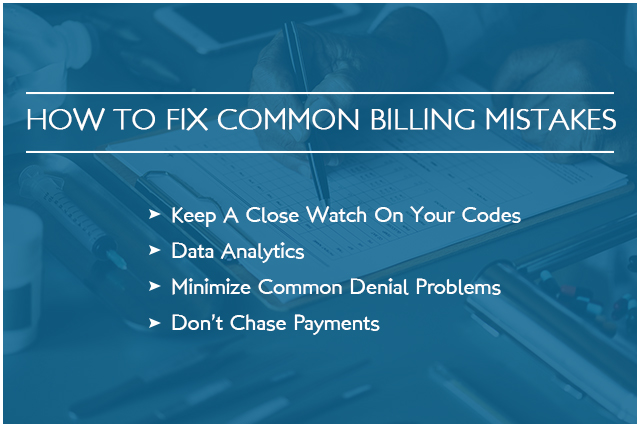 Studies have found 4 out of 5 medical bills contain an error which is as high as 75 to 80 percent. You might lose your patient, time and lot of money if you let this thing pass. To fix this issue right away contact Medphine for professional medical billing services.