Denials are among one of the biggest issues faced by the medical world right now. Claim denial has been described as the "refusal of an insurance company or carrier to honor a request by an individual (or his or her provider) to pay for health care services obtained from a healthcare professional.
The rate of denials varies between 5 to 20 percent. It costs a significant amount of money to any practice. Every medical claim that has been denied for the first time needs to be reworked and sent again. It costs the providers an average of $25, and there is no guaranteed success in receiving this amount. Ultimately the bad debt ranges 1-5 percent of the net revenue.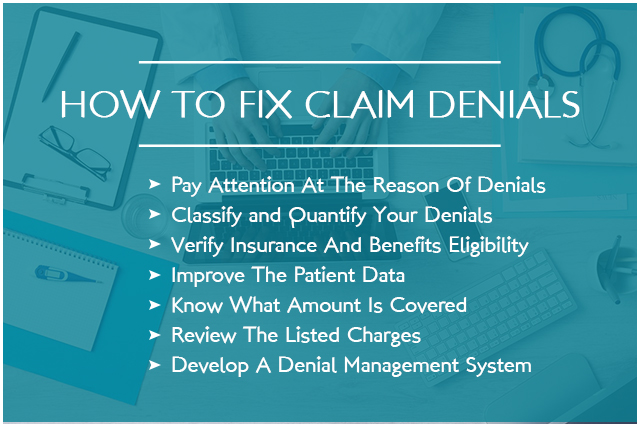 Pay Attention To The Reason For Denials
There are various reasons for the denial of a claim. It can be a delayed filing of the claim, unauthorized patient or the lack of medical necessity and much more. Ask your team to be careful with the denials and understand the reason behind them.
Classify and Quantify Your Denials
Once you know the reason behind your claim denials, you should quantify and categorize the report. These classifications of issues and the concerned party (doctor, department, payer) will help you in dealing with major issues in a more focused manner.
Verify Insurance And Benefits Eligibility
You must ensure your patient's insurance and eligibility. It seems like a manual work but given the fact that there is no appeal for eligibility based denials, it is worth the hard work. You can use other resources such as eligibility websites to ensure that your patients have insurance and they are eligible to receive your services.
Improve The Patient Data
Improve the quality of your patient data. You need to have each detail related to their health, lifestyle, medical history, medications and any other reports along with the contact details and next of kin information. You should ensure that any error in the data of patient will create issues further while submitting the claim.
Know What Amount Is Covered
The health insurance cover directly depends on the illness, procedure and the facilities received. Train the front-desk staff to understand the services that patients need to pay when they visit the doctor. The co-pays and balances do not need to be billed as it can be billed right away.
Review The Listed Charges
You need to review the charges before sending it out. Take assistance from a software that points out any potential error in the claims. Ensure that all the charges have been entered. You also need to make sure that all the charges have been entered without any error. It will make your task easy.
Develop A Denial Management System
Prepare your team to deal with claim denials way before they occur. From the patient accounting, treatment procedure, patient medical records to coding and sending out the claims. You should be trained to detect any red flags along the way and find out its solution before it goes out to the submission. Don't shy away from taking help of a medical billing company if there is a need.
The biggest mistake in your practice would be an effort to deal with individual claim denials instead of understanding the pattern and their causes. You can speed up your medical claim payments by dealing with the root cause. It might seem like a time-consuming process which definitely pays off with pragmatic results.