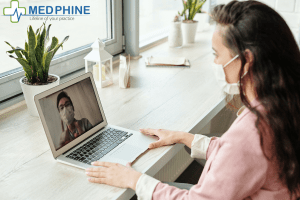 Telemedicine is not a new term in the medical field. It is the practice of rendering healthcare services to the patients remotely or when the patient is unable to commute to the provider's location and has their medical condition taken care of virtually with the use of electronic tools and technology in real-time. 
Did you know more than half of the US hospitals currently have a telemedicine program? 
Yes, and compared to the traditional healthcare methods, 74% of patients are more comfortable using technology to store their health-related information and communicate with their healthcare provider for any medical concern.
It won't be an exaggeration to say that telemedicine is the future of the healthcare industry. And why it wouldn't be, after all, it benefits both the patient as well as the healthcare provider. 
Before we move further, let us touch upon some of the basics of telemedicine. 
Often confused with telehealth, telemedicine only covers the clinical aspect and makes use of electronic communication and information technology to render virtual treatment to the patients. Unlike telemedicine, telehealth is a broader term that covers holistic practices that contribute to health education and patient care. 
Depending on the medical facility planning to adopt it, whether it is an independent clinic or a multispeciality hospital, telemedicine implementation can be different. A solo practitioner would require only HIPAA compliant software to interact with the patients in the rural and remote areas. A large hospital, on the other hand, will require a customized telemedicine solution that can easily fit into their existing system without disturbing the flow of the operation. 
Some of the commonly known types of telemedicine are remote patient monitoring and interactive medicine. While integrative medicine allows physicians and patients to communicate in a real-time HIPAA compliant environment, remote monitoring makes use of mobile medical devices to check for vitals of the patients and see if everything is alright. 
Ever since its inception, telemedicine has proven to be an effective practice in rendering quality care and treatment and enhancing healthcare accessibility. 
But how does it impact the population's health? Allow us to elaborate on this: 
Easy to offer critical specialist care:
If the patient needs critical care but has no healthcare facility around, telemedicine can prove to be of significant help to stabilize their condition until they can be moved to a hospital for proper care. Telemedicine makes it easier to access the specialty-specific healthcare provider. 
Remote physician appointment booking:
One of the most financially ruining problems healthcare providers serving remote patients face is the inability to either book an appointment or arrive at the scheduled one due to distance. With telemedicine, visits can be handled on video conferences or phone-enabled e-visits. This significantly reduces the no show rates. It is also important to note that since most of the patients do not require a physical examination most of the time, where virtual examination serves the purpose.
Efficient chronic health management: 
Telemedicine includes automated patient technology like interactive voice response. This strengthens healthcare awareness and literacy, encouraging the chronic patient to adhere to and better manage their condition with the feedback provided by the healthcare practitioner. This further helps the practitioner better utilize the limited resources for chronic healthcare management. 
Improve rural health: 
Lack of resources and urbanization has risked the health of the rural population, leaving them on their own. Telemedicine's virtual healthcare service can help them easily access immediate health at an early stage and ensure periodic medical intervention for their concern. 
Increased patient satisfaction: 
Value-based care and the increasing burden and involvement of the patient in their healthcare journey has made it more important than ever for the healthcare facilities to ensure enhanced patient satisfaction. With telemedicine, hospitals experienced decreased waiting time, which was the leading cause of patients' frustration. In the surpassing healthcare cost, telemedicine has arrived as a boon that is minimizing the cost of reductions allocated by the healthcare facility, thereby lowering the cost. 
Effective for mental health treatment: 
Mental health patients are often reluctant for an in-person visit and prefer if their sessions are conducted on videos or phone calls. Telemedicine has removed this concern with the effective use of HIPAA compliant video software that minimizes the reluctance due to the fear of breach of privacy. It has been proven that the effectiveness of the treatment is not lost in this alternative process. 
You are looking for a company that can provide billing and coding service for your telemedicine claim? 
Reach out to Medphine-your one-stop solution for claiming telemedicine fee with compliance and 100% accuracy in one go and shortest turn-around time. 
Our team of trained and certified professionals will guarantee accelerated cash flow and a streamlined revenue cycle. 
We believe in the quality of the service we provide, and to let healthcare facilities and organizations see how we contribute towards their financial stability and growth, we are offering a 30-day free trial service without any obligation to sign up a long term contract. 
Reach out to Medphine's team of telemedicine billing experts, today!