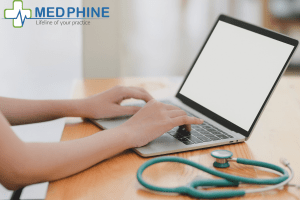 Healthcare industry is constantly working towards ensuring that the patients across the globe get quality care and treatment. They are continuously researching and developing tools and technologies to make sure that any kind of limitation can not come in the way of guaranteeing a healthy lifestyle to the world population. One of the several revolutionary technological advancements is telemedicine. 
Telemedicine is a concept with which patients across the states are provided with healthcare consultation and facilities using HIPAA compliant virtual tools and technologies. 
It is important to note that telemedicine and telehealth are to the same and should not be used interchangeably as it can be seen. Compared to telehealth, telemedicine is a narrower term. It means using electronics ad technology to provide remote healthcare services to patients across the globe, which is done with HIPAA compliant tools and technologies such as video software, medical imaging etc. Telehealth on the other side refers to elaborate health information services, including education and rendering services. Which includes both telecare and telemedicine. Telehealth powers telecare and telemedicine. 
Telemedicine has made healthcare not only cost-effective but accessible as well, empowering patients and physicians to access, transfer and exchange healthcare-related information from any part of the country, with one another. This remote delivery of healthcare services has given patients the freedom to consult physicians from the comfort of their home. With patients no longer having to wait in queues or travel to another part of the country, telemedicine has significantly enhanced patient engagement. 
Effective adoption of telemedicine system provides:
Cost-effective healthcare facilities

Remote access to health care

Enhanced clinical and non-clinical staff's efficiency

Increased overall productivity

Streamlined revenue cycle management

Increased quality of patient care

Boosted patient engagement
Half of US healthcare organisations are using telemedicine owing to the numerous benefits it offers to all the entities involved in the efficient operation of a healthcare organization. If you haven't incorporated the telemedicine system in your facility yet, allow us to help you identify the signs that it's high time you should have: 
This is a headache not just for the patients but for the healthcare facilities as well. Waiting time agitation further leads to increasing patient dissatisfaction. This is also one of the leading reasons for patients' frustration, which results in them moving to another practice for treatment. Virtual care with telemedicine will minimise the burden of staff and patients stranded in long queues. There won't be any waiting time and this will further reflect on the increasing efficiency and smoothened workflow of the facility. 
Remote patient population:
If your patient population comprises mainly from rural or remote areas, you should definitely adopt telemedicine system to ensure timely care and treatment. With telemedicine you have the accessibility and convenience.
Low patient satisfaction score: 
Other than waiting for hours to get attended, there are many factors contributing to decreasing patient satisfaction score. With telemedicine, you will provide accessible quality treatment to your patient, resulting in higher patient engagement. 
Hospitals want the patient to choose their facility over others but no hospital wants higher readmission rates. The more the patient is readmitted to the hospital, the higher would be the penalty they have to pay for not being able to dispense quality treatment in one go. Since telemedicine system is based on HIPAA compliant standards, improved adherence and follow up care will be guaranteed. 
Higher Unreimbursable Billing Time:
After hour calls, refilling prescription not only wastes time but also adds to the increasing unreimbursable billing time which adversely affects the revenue cycle. Virtually, with telemedicine, you will have a quick and reimbursable visiting session, which will be convenient for your patients-  a win-win for both.
Adding on-demand, virtual healthcare in the system benefits both the patient and physician in the long run. While still a work in progress, telemedicine is the future of healthcare which we all can rely on.