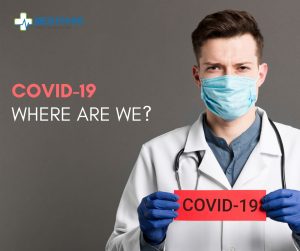 In the unfortunate wake of the COVID 19 outbreak, the World Health Organization declared the virus as a pandemic and urged people in every corner of the world to stay home and practice social distancing.
President Trump declared a national emergency on March 13th, 2020 with COVID 19 affecting the population. 
US Department of Health and Human Services Secretary, Alex M Azhar II, announced a public health emergency on January 31st, 2020, urging the Center for Medicaid and Medicare to aggressively look for a solution. 
The medical facility and the healthcare organizations across the globe are toiling day and night to research and find any possible treatment for this life-threatening invisible disease. Every passing second, a piece of new information or preventive measure based on the research and development is being publicly announced to stop the spread of the virus and ensure minimum casualty. 
The US Department of Health and Human Services has designed a website Coronavirus.gov to keep the general public and healthcare organizations updated with the latest development in ensuring the health and safety of the people.  
Today's post is going to be a comprehensive discussion on everything that you as a vulnerable person, as a healthcare provider, needs to know about COVID-19 to keep yourself well- equipped with preventive measures in these trying times. 
What is COVID 19?
A pandemic and a national, international, and public health emergency, Coronavirus are a group of viruses that attack and cripple the human respiratory system. 
What are its symptoms?
It is important to note that the symptoms of Coronavirus are similar to the common flu, which is why it is crucial that you immediately rush to your nearby health clinic for a test to confirm the exact reason. If you have been exposed to Coronavirus, you could be experiencing the following symptoms after 2-14 days:
Pressure in the chest

Continuous pain and Cough

Fever

Trouble breathing
Which age group is most at risk of getting infected with Coronavirus?
Since the virus attacks the immune system, infants, children, the elderly, and those struggling with chronic or autoimmune conditions are most at risk of getting COVID19.
How does it spread?
This disease can spread in a matter of seconds with shaking hands or touching someone or being in close contact. 

By coughing or sneezing without covering your mouth or improperly covering it. 

Not maintaining proper hygiene

Touching your face without properly washing your hand
How can we protect ourselves?
At Home: 
Stay informed:

Keep yourself up to date with the latest development in coronavirus spread, research, and development

Stay Safe:

Keep elderlies, children and family members with chronic illness safe and ensure they practice hygiene

Look For Symptoms:

If anyone in your home displays flu symptoms, immediately take them to a hospital for COVID19 testing. 

Take Preventive Measures:

Disinfect the entire home and make it a bit to sanitize your hand every 20 minutes. 

Practice Social Distancing:

Stay at home and maintain distance from everyone to break the chain of corona transmission. Social distancing is the only way to stop it from spreading wide and far. 
With the glooming uncertainty on the spread of and any plausible treatment of the Coronavirus, technology has come to rescue to people across the globe. It is important to shed light on the fact that social distancing does not have to mean isolation. You can leverage technology to connect and interact with people around you. Businesses big and small are switching to remote work models, educational institutions have taken to online teaching and any way which could invite crowds has been restricted, like theatres, restaurants, etc. This cultural shift is necessary to stop the spread of the virus and contain it. 
What should you know about getting billed while going for tests and treatment?
President Trump has made Coronavirus testing free for all, which means no copays, no deductibles, no co-insurance charges, but at the same time, it is important to understand that you might still get billed? 
Wondering how?
Because you overlooked the network provider and surprise bill, which is still plaguing the US healthcare system. 
If you are getting checked in an area out of your network provider's zone, you might get billed. 

Also, since the symptoms of the novel Coronavirus are similar to that of flu, it is only after you have been thoroughly tested you will get to know if you have to pay the testing fee or not. Take, for instance, instead of Coronavirus; you got diagnosed with garden variety flu. Then you will have to pay the testing fee. 

You must keep yourself updated with the latest research and development on the Coronavirus.gov. There could not be any better time to thank the advancement in technology for keeping people aware and connected while still practicing social distancing and helping each other fight this deadly virus. 
COVID-19 has drastically brought the economy down, and among the other financially crippled sections, the worst that has been hit is the medical billing and coding industry. With the outbreak, healthcare facilities and insurance providers are being regularly updated by the CMS on the billing and coding guidelines. 
Considering the gravity of the situation, CMS has allowed licensed providers to render services outside their state of practice to ensure zero lagging. While CMS had temporarily waived off and modified the Medicaid and Medicare requirements, it is important for the healthcare organizations to stay updated with the billing and coding updates released by CMS. 

AMA is working on speeding up COVID 19's procedural terminology for test reporting. 

Since isolation is a medical necessity in the treatment of Coronavirus, CMS has declared that hospitals offering both private and semi-private rooms will not charge any differential price for the private rooms, in severe cases. 

CMS has asked the healthcare providers not to charge any additional deductible from the patients that have been quarantined and discharged. 

Until the patient is discharged, Medicare will bore the diagnosis-related group fee or any outlier cost for the patient who no longer has to remain in acute patient care. 

CMS has asked the local Medicare administrative contractors to develop individual payment amounts for claims received under the codes U0001 and U0002, under which laboratories and healthcare providers bill Medicare and other healthcare insurance. 
To help healthcare providers with accurate and compliant billing, CMS has dedicated a section of their website where every aspect of COVID19 billing has been covered in the form of FAQs and other resources. You can check them at provider enrollment. 
We know these are the adverse times, but the best shield we have against this is to stay safe by staying inside our home, keep a tab on your health, and practice social distancing.