Medphine celebrates this festive season together with some learning sessions. It was a month full of celebrations and training. A quiz session based on medical billing, collaborated birthdays and Christmas celebration were conducted in this month.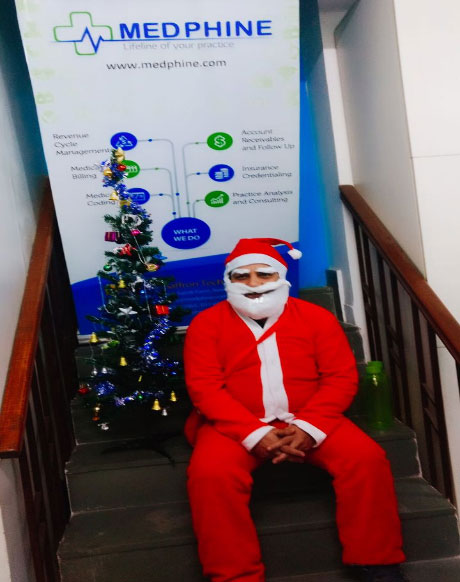 This quiz session was hosted by Reetu Singh, Co-founder of Medphine on 12th of December.
The questionnaire included questions regarding new updates in the field of medical coding and eClinicalWorks. The team members were divided into four groups to make the game engaging and more interesting. There was a spirit of competitiveness among all the members as they participated enthusiastically in the quiz game. Later, Reetu Singh expressed her thoughts on the game and discussed about the journey with Medphine.
Reeu also shared her experience of eCW NAtional Conference which was conducted in Orlando, Florida. All the staff members were updated about the latest information of the software that can help them extract complete benefits. Later, she also announced the winner of quiz session conducted will be declared on 23rd of the December.
Medphine believes that spirit of Christmas is one of the most precious gift for the entire team. The decoration for this festive started in Medphine almost a week before. This festival celebrates the birth of Jesus Christ. Christmas celebration at workplace embodies community spirit and an opportunity for employees to display their creativity.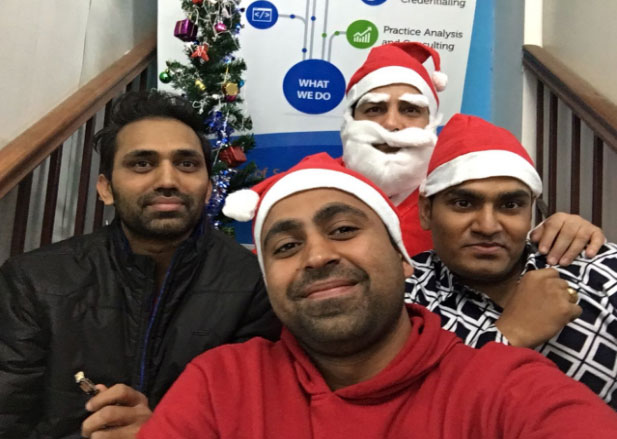 What enhanced the spirit of this festival was a fun event organized by the management named "secret santa". All the team members bought gift for the ticketed person that they have pulled out from the pot. All these gifts were kept near the decorated Christmas tree with the name of the person.
There was even a short presentation regarding the history of christmas celebration and the significance of gingerbread, cake, candy cane and eggnog. The Christmas celebration ended with cutting cake and distributing goodies amongst all the team members. This entire programme ended with singing Christmas carols in groups and exchanging gifts with each other.
Medphine never miss a chance to reward the team members for their commitment and hard work. These fun filled parties are a way of providing relaxation from the monotonous routine of job.
Festivals and birthday celebrations are one of the best ways to earn the loyalty, create a stronger bond and making employees more dedicated towards their work. This helps in maintaining the productivity and set social wheel of workplace rolling.