The 68th Republic Day was celebrated with a great grandeur and solemnity at Medphine. On 26th January, 1950 India became Sovereign Democratic Republic and adopted their own constitution. All the team members were full of fervent zeal and patriotism.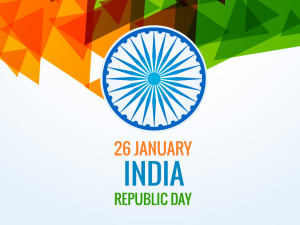 The entire office was decorated as per the republic day theme. A traditional wear competition was organized by the HR department where employees have to dress in the tri color traditional clothes. Every team member had a miniature flag which was pinned on their attires. With the tricolor flag pinned, everyone was blazed with happiness and pride.
The function began with Medphine's director addressing the entire team members. She shared her thought on being a part of a country that is known for diverse culture, growth and sacrifices. Reetu Singh stressed on the point of having a clean and healthy living. Medphine being a part of healthcare industry understands the importance of healthy and fit life. This discussion was further taken up by all the team members and they shared their thoughts on being proud of a diverse heritage in the 21st century. All the young team members discussed all the current issues of the country with great passion and energy. There was a feeling of patriotism everywhere.
After this brief session of discussion, we had antakshari competition where all the members sang patriotic songs. There was a feeling of patriotism among the employees. All the teams were divided into two groups to add on to the excitement. All the members showed great enthusiasm and enormous energy. Towards the end, Team 'B' was announced the winner of antakshari competition.
Cherry on the top of this fun and frolic was added by HR department by sponsoring movie on national integration. This helps in building high morale of the employees and a healthy work culture. Medphine understands the importance of breaking the monotony and relieving pressure. All the members were dispersed with refreshment and pictures of fluttering tricolors in their head.
This month, HR department of Medphine hosted grand party to celebrate collaborate birthdays which included the birthday celebration of Mrs.Reetu Singh, CEO of Medphine. It was a gala celebration where various fun activities were organized for employees to offer relaxation from the busy routine. The leisure activities such as dancing, painting and singing competition helps in building strong bond among the employees and simultaneously with the organization. This activity session was followed by cake cutting ceremony. The CEO of the company addressed the team members to show her gratitude and shared the VMV of the company to keep everyone aligned with company's vision. Everyone was served with refreshment towards the end of the celebration.
Medphine believes in creating a balance between work and culture of the organization. These celebration helps us in achieving excellence in our work with a strong integration and trust bond among the team members.