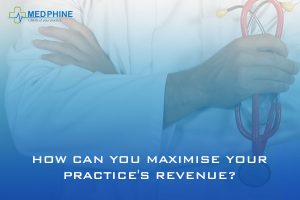 What an overwhelming year it was for the healthcare professionals and medical revenue cycle management? The value-based care, interoperability, shifting financial responsibilities to patients, it won't be an understatement to say that the healthcare revolution by digitization is starting to reflect its impact on the revenue cycle management.
Also, what a start to the 2019 healthcare financial landscape with the mandatory health care bill transparency?
If the digital transformation is going to take the healthcare industry by storm in a way like it is right now, then healthcare professionals need  to adapt to these change; and leverage them to enhance the quality of care and treatment they are dispensing to the patient and alongside strategize in a way to  maximize their revenue cycle management.
After all, it is the revenue which is driving your medical practice. While we understand that it can be backbreaking to strike a perfect balance between quality treatment and keeping your pocket sufficiently stacked to be able to continue to serve the people, the truth is when you will have revenue then only you will have the equipment and technology needed to help those in need.
The key takeaway from 2018 has been that healthcare organizations are becoming more focused and ready to invest in the direction of revenue cycle improvement. Focusing efforts on RCM intricacies like patient-centered approach to processes, secure prior authorization with EHR, healthcare facilities are looking across all possible clinical and recency cycle domain to take financial advantage of every opportunity they can capitalize on.
TIPS TO MAXIMIZE REVENUE
Keeping this into consideration, we bring to you, in today's post, some of the emerging tips in the healthcare landscape, implementing which you can maximize your revenue generation:
CLINICAL DOCUMENTATION:
Make sure that every healthcare data and patient information that is being captured is accurate and that the front-end does so efficiently. Minor negligence or mistake will have a snowball effect on the RCM. Ensuring the front end processes are being done correctly will minimize the trouble for the back-end, making it easier for them to bill, thereby ensuring RCM efficiency.

Clinical documentation can be further enhanced by periodic access and measurement of quality and success rate of all the processes involved in the clinical documentation and coding.

Furthermore, you can also execute a clinical documentation improvement program, where you can leverage technology to help the healthcare staff better understand their environment and the impact of their job responsibilities on it.
CLAIM DENIAL MANAGEMENT:
Isn't it frustrating to have to go through the ordeal of filling out the claim with utmost precision, ensuring that it gets accepted and reimbursed in the first go, only to have it come back rejected in your mailbox?

Claim denials are one of the most prominent reasons for loss of revenue and disruption in the revenue cycle with the re-submission and the delay in claim processing.

Did you know 80% of the claim sent are riddled with errors leading to their rejection?

This is why it is essential to have an effective claim denial management strategy in place.

To minimize the probability of claim rejection, delegate a team to thoroughly verify all the details mentioned in the claim from the information of the patient, provider, insurance company. The documentation should be checked twice/ thrice if possible such as the documentation of visit, explanation of benefit, etc. The more thorough verification would be, the better would be your chances of getting your reimbursement.
BUNDLED PAYMENT STRATEGIES:
A value-based reimbursement model by the Centre for Medicare and Medicaid services, bought into the spotlight in the later part of 2018, is a comprehensive payment mode to address an entire episode of treatment, gauging upon the risk-based processing that value-based care is.

Unlike other payment models, bundled payment shifts the entire clinical and financial responsibility on the provider, under which they will be able to earn more value-based incentive payments without adding any excessive financial risk.

Bundled payment strategies encourage the provider to engage more with the value-based care reimbursement program, offering savings to both the providers as well as the payers. To efficiently manage healthcare cost under the bundled arrangement, the practice should promote open communication with the patient, which will not only enhance patient engagement but also help in reducing unnecessary cost.

The fear of the unknown, a change in the bundling initiatives can be overcome by investing in predictive analytics tools that will help them identify high-cost patients and accordingly estimate care episode costs, thereby strengthening the probability of success in the value-based care world.
WHY OUTSOURCE YOUR REVENUE CYCLE MANAGEMENT TO MEDPHINE?
While these tips will undoubtedly enhance your medical practice billing and coding efficiency, it is always a wise decision to seek the help of a professional service when you want the job done quickly and without any possibility of error.
Also, do you have that kind of time to regularly stay updated with the changing landscape of the evolving healthcare revenue cycle management?
Assuming the answer to be no, we would advise you to reach out to our comprehensive revenue cycle management services. While you must have heard and read million times how outsourcing is time and cost-effective way of enhancing productivity, we are here to tell you that Medphine has a lot to offer than that and we deliver on our promises.
Our dedicated team of professionals medical billing and coding experts will make sure that starting from the scratch your revenue cycle is streamlined and simplified.

The industry experience backed by professional training and certification will make sure that your claim is paid at the fastest rate with 70% reduction in the overall operating cost. We offer accelerated cash flow, streamlined management, and the highest level of efficiency without overlooking the compliance.

You can rely on

Medphine's

revenue cycle management service for ensuring maximum collection and highest return on investment, with dedicated project managers rigorously working on smoothening your revenue cycle.
Would you like to try our service before outsourcing it?
Yes, we offer risk-free 30-day trial service, without any obligation to sign a long term contract.
Watch your RCM gradually transform with Medphine!
Try our service for free and decide for yourself!