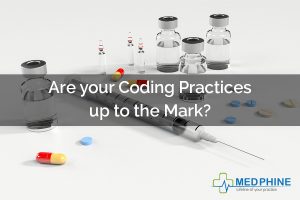 While we think the medical world is complicated with human anatomy, various diseases, and several treatments, seldom do we, as a patient quantify the gravity of medical billing and coding. While a medical practitioner has a lot on their plate to ensure that every patient is dispensed quality service, to overlook the financial aspect of the facility would be a blunder that will have a long term adverse impact.
IMPORTANCE OF ACCURATE CODING
Of the many financial aspects involved in running a medical facility, coding is the one that should be adequately taken care of. Unlike the cost of the medical equipment, surgical equipment, which gets written off, accurate coding is necessary to ensure that the hospital is adequately reimbursed from the insurance company on behalf of the treatment they performed on the patient.
With the codes being universal, it provides uniform documentation across the medical facilities. Through medical coding, the insurance company decides whether the claim should be reimbursed, reduced, or denied. It impacts both the service provider as well as the patient since a minor mistake in the coding can result in the patient paying a huge medical bill and service provider having to compensate for the amount. 
Accurate medical coding is also necessary to keep correct records of the patient. A slight spelling or diagnostic error can lead to the hospital getting underpaid for the services they have dispensed. Codes form the basis of hospital payments, medical data collection, physician reimbursement, quality review, and more, which is why accuracy is of utmost importance. This is why many healthcare organizations prefer outsourcing the medical billing and coding to a credible agency like Medphine.
We offer a comprehensive solution to all your medical billing and coding issues, ensuring fastest and accurate reimbursement, abiding by the HIPAA guidelines. Our team of certified coding professionals and specialty-specific coders will ensure 98% claim reimbursement in the first time, thereby enhancing your practice's efficiency.
COMMON CODING ERRORS:
Having discussed the significance of error-free coding in medical practice, let us talk about some of the common coding errors that medical practices make and how does it impact the facility's operation:
While it may sound simple; labeling diagnosis, procedures, treatments, unknown conditions, surgeries, and other medical symptoms in a numeric value, such is not the case.
Every year thousands of healthcare organization lose a significant part of their earning to coding fatalities. Some of the most common coding error, which could be a genuine mistake or might be the result of an intentional misinterpretation are:
When the coder makes use of multiple CPT codes for a combined service that has been designated a single CPT code. It could be due to plain misunderstanding or the aim to increase reimbursement.
When the healthcare facility receives a lower amount than what the cost of the treatment, they have dispensed, accounts for, this is termed as undercoding. The reason behind it could be diagnostic codes, procedural codes mistake, etc.
When a coder intentionally writes a wrong code of the service that has not been administered, such as adding codes for expensive procedures, it is referred to as upcoding. This is done with the intention to seek higher reimbursement.
With more than 75000 CPT codes and several billing rules governing how they should be used, it is only natural for untrained medical staff to make mistakes that can question your facility's integrity.
These two-digit alphanumeric characters can get confusing because of its two sources. There are CPT modifiers, and then there are HCPCS modifiers, developed by AMA and CMS respectively to inform the payer of any extraordinary circumstances. Incorrect mentioning could be due to honest misunderstanding, intention to seek higher reimbursement or error in the data.
IMPROPER REPORTING OF CERTAIN CODES:
Inadequate documentation of hydration, infusion and injection codes or reporting unlisted codes without proper documentation can result in over or underpayment. For example, a single injection code has to be documented for an entire session.
IMPROPER LINKING OF DIAGNOSIS CODE TO CPT CODES:
It's common for a patient to undergo two or three unrelated procedures for targeting a disease. This is where proper linking of diagnosis code to CPT code is essential, otherwise, the facility might land in legal trouble. It is the responsibility of the coder to ensure that the payers clearly understands why a particular service was dispensed.
CONSEQUENCE OF ERRONEOUS CODING
If the invoices submitted to the insurance companies have a wrong diagnosis or procedure code, it will not affect the financial aspect of the company with underpayment or overpayment; but it will also land the facility into trouble with its adherence to government regulation being questioned.
Erroneous coding has the potential to delay not only your reimbursement but also tremble the financial stability of your facility. The rejection will also lead to significant wastage of time and true potential into correcting the mistakes and re-submitting it.
The faulty code can subject your healthcare facility to the legal implication from the patient, insurance company, or the state and federal law enforcement. The accusation of medical fraud has the ability to ruin your facility's reputation.
If your medical practice continues making coding errors, or the documents being surfaced are repeatedly questionable and inadequate, it might trigger a fraud investigation. Aside from wasting your time and money, this will put your practice in a bad light, risking its future.
Slight mistakes in the diagnostic codes or the procedures codes have the potential to change the patient's treatment and care entirely. The repercussion of wrong codes can be detrimental with the patient receiving improper care or not being given the medicine they urgently need.
WHY OUTSOURCING BILLING AND CODING WOULD BE BENEFICIAL?
With the diagnostics, symptoms, patient' s specifications, procedures, pre-existing conditions, medical coding is a tricky job. This is why it is better to outsource it to a dedicated team of certified and trained professional coders like those at Medphine. You can trust upon Medphine in getting you prompt reimbursement with minimum claim denials.
You have the freedom to test our service!
Yes, take our risk-free 30-day trial with no long term contract and decide for yourself.