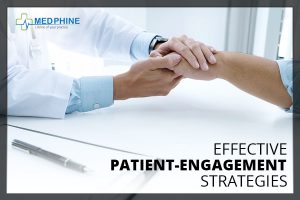 What makes a healthcare treatment and care delivery system?
The patients!
Most of the physicians and hospitals have a tough time attracting and retaining patients. The reason for the falling patient engagement could range from patients not feeling valued by the inefficient and untrained front-desk support or patients getting overwhelmed with the healthcare organizations payment procedure and more. This is why outsourcing your medical practice's complete RCM to a credible agency like Medphine is a better option, that will take the load off of you, and you would be able to better focus on delivering quality treatment.
Did you know how crucial patient engagement has become in this continually evolving healthcare landscape?
from Online/mobile appointment scheduling, patient portals, emails, patient pre-registration, and pre-visit planningSuch is its significance that it has been mandated by the U.S Law, to ensure transparency of patient's health information.
Per Medical Group Management Association, August 2018 report, an increasing number of medical practitioners are focusing on patient retention and engagement by investing heavily in technology, and the stars are promising to increase in the coming years, as hospitals understand its imperativeness and are gaining more insight into patient's data.
So what is patient engagement?
When patients are not treated as a sub-entity of the healthcare operational cycle and instead as a cohort in the whole process, then patients are regarded as engaged. They are made aware of the health-related information, which includes (but is not limited to) their health information, prescription, discussing the health conditions, delivering treatment through technologically advanced medical equipment. Not to be confused with patient compliance, which is mere abiding of direction given by the healthcare provider, patient engagement means actively involving patients in the healthcare functionality so that they are able to make a well-informed decision about the treatment, payment and more.
Why is patient engagement important?
Not that it needs to be stated, but the apparent reason is, it drives the financial health of a healthcare organization. Patient engagement, with timely interaction and post-op communication with the patient, will help the healthcare practice not only build their name and brand but also drastically reduces their readmission rates. By making use of technologically advanced patient engagement system, healthcare can shift the burden of post-discharge responsibilities to software and equipment to ensure effectiveness and accuracy.

End to end communication imbibed with the latest medical advancements, effective engagement strategy ensures that the patient no longer has to overstay in the hospital, post-surgery/delivery, fearing lack of proper care at home. The wearable technology has made easy aftercare process for the family members and caregivers at home.

Did you know that

80% of patients who are able to access their electronic health record

actually make use of this information towards care? Furthermore,

60% of patients are more likely to follow their medical treatment

, if they are given quick access to their health information. Effective communication channels can help the patient, as well as the healthcare practice, identify and start treatment of a severe medical condition, which without patient engagement strategy in place would only come into light when the symptoms become apparent. This will help the practice, as well as the patient, make a well-informed decision at the right time.

By creating patient portals, healthcare organizations save them as well as the patient's time and money. With patients being able to book their appointment online, not only will this save the money spent in going to and for the hospital but it will also reduce the hospital's cancellation and no show rate, which has an adverse impact on the organization revenue cycle management. You can read more about devising strategies to minimize patient no-show in our previous

blog

.

We know how CMS, ACA are emphasizing on strategizing for the healthcare practice and citizens across the nation to be able to better deal with the chronic health conditions. A well-founded and implemented patient engagement system will ensure proper chronic disease management in an environment comfortable to the patient, with prompt medical service being made available to them, as and when necessary.

Patient engagement strategy shares the control with and empowers the patients, wherein they are aware of the health information, have the right to keep their perspective forward and decide what should be done ahead. This has a massive positive impact on the patient satisfaction, which ultimately encourages the value-based care healthcare environment, which is the transformation that CMS and ACA plan for the healthcare organization, to benefit both patients as well as the hospitals.
What are some of the most effective patient engagement strategies?
Some of the most common and widely used patient engagement tools are:
Online/mobile appointment scheduling
Patient portals
Emails
Patient pre-registration and pre-visit planning
To further encourage active participation and enhance patient engagement, these tips can be of immense help:
Healthcare organizations should communicate with patients an easy language so that they easily comprehend the information and are able to make a sound decision. By minimizing the complexity be it in their written formats or verbal ones, healthcare practices make operation easy for the patient and themselves.

Find out the various communication channels in which your patients wish to remain engaged. Be transparent and involve patient not just in a superficial manner but in making sure that the treatment and health goals that are being set has the patient's active involvement.

Active participation can be further encouraged by holding patients accountable for their health goals. Regular interaction on keeping track of how the patient is doing will help the patient themselves stay active in the treatment.

By incorporating telemedicine services, healthcare practices can see a significant decrease in the emergency room visits and the waiting time, with the virtual visit and medication process done more quickly than before.

Make use of technology and give the patients more access to targeted information, which they can use to enhance their treatment and aftercare.

Personalizing communication can help the patient better manage their conditions.
It can be overwhelming for a healthcare organization to dispense adept treatment along with taking care of their practice's financial health by keeping a tab on the continually changing policy and revenue cycle landscape, which is why outsourcing is a better option.
We at Medphine, offer comprehensive healthcare RCM services, right from appointment reminders to specialty-specific revenue cycle handling by certified billers and coders. We promise gradual revenue escalation, claim denial reduction and overall strengthening of your healthcare practice, adhering to latest HIPAA and CMS policies.
With our strong belief in our RCM services along with even stronger dereliction of not bounding a practice to an ineffective and non-profitable management strategy, we offer no long-term contract, risk-free 30-day trial so that you witness as we transform your healthcare practice revenue cycle.