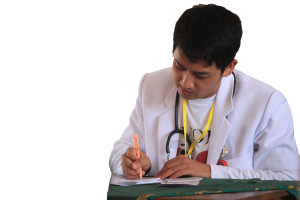 Healthcare industry faced a major change with the transition to ICD-10 and with the implementation of updated EMR/EHR.  With the ICD-10 introduction, enormous diagnostic codes were introduced due to which healthcare professionals are facing variety of issues. The new Diagnosis Related Group (DRG) system was amended for integrating new codes for reimbursements in it. This updated system has increased the coding standard to more than  65,000 codes under the ICD-10, which was nearly 16,000 codes under ICD-9.
Many physicians and practice are facing complexities with this transition. We have come up to with the best solutions for dealing with the coding challenge in ICD-10.
Problem in Productivity
An increase in number of codes under ICD-10 has elevated the complexity for the medical professionals. It becomes complicated to choose through a large number of selections to forge a decision on which code is correct to choose and use.
This may look like a daunting task but you can provide your staff with both the two systems which will work in a parallel way towards the outset, for giving the health coders and staff the appropriate time to learn this new system. Training should take pace on part time basis while the staff keeps on working with the old system. Hence, not compromising with the productivity.
Many medical industry organizes training and onboarding programs to achieve higher productivity in a limited period of time
Training On Medical Codes
The success key for implementing this new series of codes under ICD-10 is through training your staff members on this new codes which includes their correct utilization. It is a challenging task to get large number of staff members trained on this new system. The members are to be trained depending upon their position and role in the organization which demands a good amount of time. Staff training can be a significant issue depending upon the size of the healthcare practice.
An emphasis on skill development programme would surely help as it will initially going to evaluate an individual's skills and then advancing steadily to acquire the  required skill. The providers can maintain both the coding systems i.e, ICD-9 and ICD-10 depending on players' strategies while the staff is getting trained.
You need to make sure that all the stakeholders understand the working of ICD-10 and accurate submission of claims in the training period.
Financial Constraints
The transition to ICD-10 comes with significant cost. The healthcare industry needs to train the staff, upgrade the system and also needs to support augmentation costs of the staff to aid them for getting over hump of coding and in covering learning curves.
For unlocking the benefits of ICD-10 acquiring and updating right technology is required.  An effective technology means a lot of financial constraint.
For avoiding this constraint you can opt for a medical coding and billing company which is cost effective and are prepared with an advance technology. This is not only cost effective method but less time consuming with valuable results.
The approach you are opting for to deal with this new coding system will have an immense impact on financial and legal level. So, it becomes crucial to focus and invest on the challenges which have cropped up with inception of ICD-10.
Professional medical billing service providers are trained and adept at handling revenue cycle management. They are also up to date with latest changes pertaining to ICD 10 and effectively process the claims management, minimizing a lot of hassles that can otherwise crop up if handled by untrained or uncertified coding professionals. Therefore it is always advised to consult a Certified RCM service provider to manage your Revenue Cycle Management.