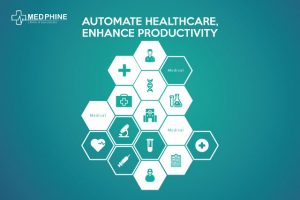 Automation ever since its introduction in the early 1900s has been rapidly disrupting various industries by minimizing the manual efforts, enhancing accuracy, paving the way for the workforce to better utilize their knowledge and skills towards growth and development.
One of the industries massively transformed with automation is healthcare system, which post-digitization has gained more insight into patient's data, making processing and transfer of information easy, ultimately enhancing the quality of treatment being dispensed to the patients.
Automation makes use of information technology to reduce the efforts that are wasted in doing repetitive manual and paperwork. As time and technology are advancing, so is the scope of automation in the healthcare system.
There are various processes which can be automated to improve the healthcare system's processing. Take, for instance, setting up appointment reminder software for calling and texting instead of calling every patient, prior appointment. Another process whose automation can be beneficial in enhancing efficiency is patient feedback, sending out surveys post-visit. Furthermore, RCM can be also be automated to improve collection and minimize claim denial and overhead cost.
Wondering how automation is helping healthcare practices across the globe?
The minute a patient books appointment, their paperwork starts, which keeps on increasing depending upon the treatment being given. Imagine the amount of paperwork the healthcare staff has to do in a day? Wouldn't it be better if their time, knowledge and energy are better invested in handling significant administrative work than organizing the paper? Intelligent automation, when used to perform repetitive tasks, can help reduce workload and allow staff to better focus on essential functions. This has also streamlined the billing and coding process, which the practice's authority is always worried about.

Healthcare practices across the globe are diligently making efforts to gain a better insight into the patient's data for devising strategies that help with dispensing quality treatment and unburden their load of financial strain. While manual documentation is time-consuming and prone to errors, automation ensures maximum accuracy of the data captured.

With automation saving your healthcare organization's time, money and energy of the staff by lightening the workload, speeding up the financial process, streamlining the billing system, etc, your practice will gain a competitive edge over others.
Why are healthcare organizations having trouble adopting automation?
The most prominent hurdle healthcare organizations are facing in implementing automation is the transition from storing data in the traditional platform to a digital one, thereby making collaboration difficult than it already is.

The aforementioned further makes the safety and security of the database more vulnerable to getting into the wrong hands.

Another fear among the healthcare organization operators is the loss of control that is assumed, with the implementation of automation. What practice operators need to have cognizance of is that every industry needs to find the perfect balance between technology and manual assistance.
To understand and implement requires being in constant touch with the rapidly transforming healthcare industry, which can be painstaking, considering you and your staff is occupied in delivering best possible treatment to the patients and get them back to their healthier self. Instead of straining your team, a better option would be to outsource the entire financial service and management to a billing and coding agency like Medphine.
Our team of RCM, billing and coding experts will efficiently manage your practice's financial health, right from credentialing verification to account receivables to comprehensive revenue cycle management. From oncology behavioral health, we offer customized billing and coding solutions across specialties, ensuring compliance with HIPAA and aligned with CMS continuously evolving strategies.
We are offering no obligation 30 days free trial of our service, with the surety that you will notice evident escalation in your practice's revenue generation and a decline in claim denial rates.
Transform your practice's RCM today!
Get in touch with Medphine's representative.