As the pressure has increased on healthcare regarding value-based care, providers are striving to help patients with their health and making them live a healthier life. The healthcare business is based on content and a satisfied relationship between provider and patients. At the same time, value-based care model pushes providers further to provide more excellent care to their patients. That is why it is critical to engage with them closely and maintain your patient retention.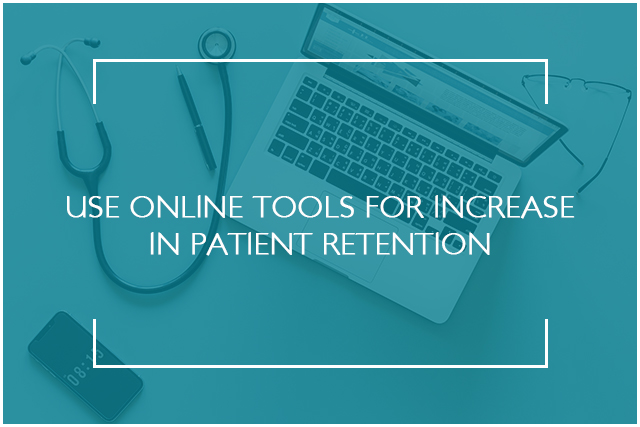 One way to check your performance is by asking your patients for feedback. But it is not always successful as the patient or their family generally hesitate in giving accurate feedback when asked in person. That is why it is essential to provide them with an authority so that they can give feedback in their comfort. One way to do it is by employing some useful online tools which improve patient experience and eventually increase patient retention. Let us have a look at how online tools increase patient retention and satisfaction:
Online Scheduling for patient retention
Patients look for comfort and convenience in all parts of healthcare. The appointment or scheduling is one of the most tiresome tasks. Calling the provider's desk and waiting for the turn. There are times when the desired slot is not available. Then the patient needs to go over and over for a suitable time, and the attendee needs to check for space to fill in. You can imagine how cumbersome the entire situation is.
Online scheduling allows patients to choose from the available slots way ahead of time. They can easily choose a time which is free and suitable for them as well. Similarly, online scheduling allows a stress-free rescheduling. The patient can easily cancel or reschedule the appointment. Such comfort makes you the favored provider among your patients.
View, Download, And Share Health Information
Providers are encouraged to share relevant & consistent information to educate patients. Tools such as patient portal integrated with EHR systems provide the flexibility to share the most recent medical literature and the best patient-specific educational resources for a unique patient. This also has monetary benefits for providers as providing patient education material fulfills one of the Meaningful Use criteria for provider incentive program run by CMS.
In the same way, value-based healthcare system involves patients on their path to recovery. They should have a medium to look at their health reports, download them for any future reference. Online availability of reports allows the patient to access them whenever they want. It also allows them to share it whenever there is a need.
This way patient is engaging in his/her treatment in an active manner.
Ease On Payment
Payment remains to be one of the critical factors where you can provide convenience to your patients. One facility that you can afford is that of online bill payment. If patients receive their health bills just like any other bill, there are fewer chances of it being ignored/forgotten. Send a mail and text to your patients with a reminder about the bill and a link where they can make the payment online. This process would barely take 2-3 minutes, and it will make a whole lot of difference in a value-based healthcare system. This system is not only eco-friendly, but it also makes sense to today's internet-friendly generation.
Secure Communication
A secured communication channel is beneficial if the patient needs to talk to his/her doctor. A patient app will allow a secure messaging if they want to keep their health information protected for privacy concerns. Such options which meet the needs of the patient will get you their loyalty and trust. The testimonial of a satisfied patient would be the best marketing you can ever have. Not only it increases your patient retention, but it also brings new patients to your business.
Similarly, providers should also use social media platforms to assist the patients in every way possible. If the patient has found you through social media, then they might ask you queries as well. Make sure that you actively reply and engage with your patients. You can also ask your existing patients to give you feedback on social platforms. Make your social media useful by sharing health tips and informative write-ups. If you pay utmost attention to your patient, not only will they stay with you, but their kind words will expand your business further.