Health care providers are witnessing a startling change in their functioning these days. By order, all health care entities, recognized under the Health Insurance Portability and Accountability Act (HIPAA) 1966 need to implement a new coding system for services. The existing system, International Classification of Diseases, Ninth Revision (or ICD-9) will be replaced by the tenth revision ICD-10 latest by October 1, 2015. Right from the notification from the Department of Health and Human Services (HHS) on August 4, 2014, adoption of this new protocol has been taken with interest. Ace health care strategists are hopeful this will improve deliverance and transparency in context to health care services. While implementation of the new codes translates into a good news for new coders, current coders have to upgrade themselves to retain their position and relevance.
The new coding will affect the physician practices to a considerable measure. American Medical Association (AMA) found that the high costs involved in implementation will "place a crushing burden on physicians." Apart from software upgrades, various other factors such as training expenses, payment disruptions, practice assessments, etc. will also higher the cost.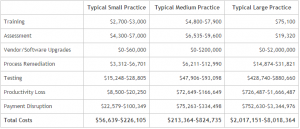 ICD-10 mandated, will enforce a significant administrative and financial burden for better and revised medical terminology and classification of diseases. In such contexts, the health care practices are expected to be in greater consistency with the current clinical practices, therefore helping diagnose and treat a larger bracket of diseases.
We observe that ICD-10 has 71,924 procedure codes and 69,823 diagnosis codes in contrast with the ICD-9 that had 3284 procedure codes and 14,025 diagnosis codes. While medical practitioners and coders will need to learn a lot of these new codes, patients can now benefit extensively, given that the ICD-10 addresses their illness in a greater spectrum.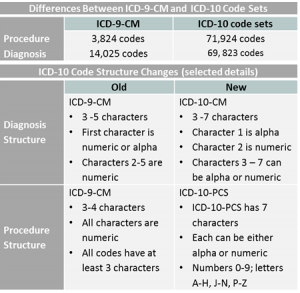 The very specific description, as provided by ICD-10, is now going to help coders to a great extent in communicating among themselves, thus reducing time and efforts needed for the same previously. This transition will strengthen the medical expertise that was very much called for since a few years.
With ICD-10 code sets, we can have an almost seamless experience in
Tracking public health conditions (complications, anatomical location)

Improved information-analysis for epidemiological research (severity of illness, comorbidities)

Measuring outcomes and care provided to patients

Making clinical/insurance-related decisions effectively

A greater and clearer code set ensures detection of fraud and abuse quicker
What are the immediate benefits to public health of the ICD-10?
We are in agreement that the transition is not a seamless move, and will have friction both from within and outside the industry. Notwithstanding that, ICD-10 has many long-term advantages that will help the medical care sector to serve customers better. For practicing physicians and other related professionals, notable benefits are:
High precision in clinical representation of quality of health care delivered

Enhanced level of details incorporated in this new code set will ensure more concise and accurate description of identified and tracked conditions

Reimbursement and insurance claims will see early realizations

Risk-adjustment profile

Severity level profiles

Medical necessity now more justified and expressed

Reduced chances of misrepresentation (of facts or situations) by third party (e.g., attorneys, auditors, payers, insurance agencies etc.)
What's in the future is a better and healthier world.
The ICD-10 transition is a significant change in medical billing and healthcare practices. A higher coding precision will amount to a greater level of productivity and realization of benefits, both for physicians and the patients. Also, since there is now lesser room for ambiguity or misrepresentation to prevail, inter-departmental communication will be seamless, and that can save a lot of time and effort. The ICD-10 will compel professionals to learn and adapt to this new system, but once done that, we are sure going to see its long-term benefits in no time.