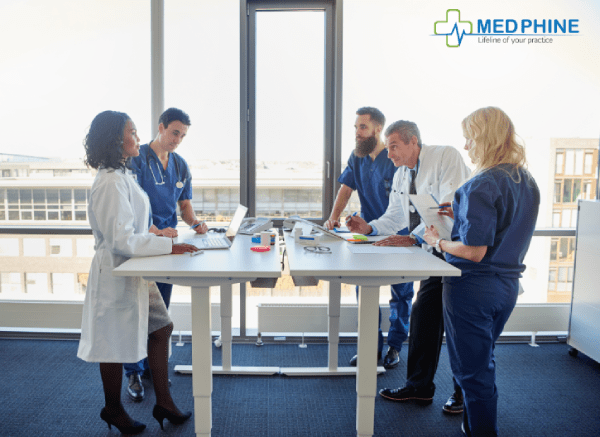 Outsourcing in business means involving a third party in your business for doing certain tasks that are not the core function of your business. Outsourcing offers many advantages as it offers specialized and customized services to the clients and reduces the overall operational costs. When we talk about outsourcing in the healthcare industry it mainly involves documentation and other administrative works that cannot be handled smoothly by a facility or practitioner. Due to the increased burden on hospitals, practitioners, and many other regulatory reasons most of the hospitals as well as small practices are adopting outsourced services for themselves. These outsourced partners are experts who share responsibility and help in improving the revenue cycle in a practice.
Let's look for various benefits that outsourcing can bring into your practice:
Manages the expenses: In medical practice, hospital staff and doctors mainly deal with patient care, they do not have much idea about coding, billing, settlement etc. For these tasks to run smoothly a team of specialized persons is generally hired. This leads to increased costs and expenses for the practice. On the other hand outsourcing, these services help in reducing cost as they charge the facility on the basis of the number of cases they manage.
Manages operational controls: Outsourcing specialized agencies for certain functions helps in the smooth running of that department. These agencies are experts in their field which helps them to collaborate with external bodies for settlements. This saves time and improves revenue generation.
Risk management: Outsourcing certain components of your business helps you to shift certain responsibilities to the outsourced vendors. Since the outsourced vendors are specialists, they plan and look after risky factors. They try to anticipate the probable cause for a loss and avoid situations that might occur in the future like denial management.
Helps you to focus on your primary job: For any health care facility, the primary job is patient care and satisfaction. Handing over certain tasks to outsourced agencies helps practice and staff to focus more on its primary job and improves the goodwill.
Maintains the smooth functioning: Outsourcing services like revenue cycle management (RCM) or medical coding and billing help a practice to improve revenue generation. These companies are experts in coding, billing and claim submissions which reduces the chance of denials. This manages the smooth functioning of practice in terms of revenue.
Keeps you updated: Outsourcing companies invest a good amount of money in their infrastructure be it the latest technology or updated software. They keep their systems up-to-date with every change in market trends. So, hiring any such specialist for your practice might help you to stay up to date in that particular field.
Outsourcing is trending these days only due to its numerous benefits. Trusting a third party and involving them in your business is not a bad idea as they guarantee trust and help you manage your business with their expertise and swift services.
If you are looking for outsourced services like medical coding, billing or RCM for your business Medphine.com can be your trusted partner.