eClinicalWorks Annual Conference
eClinicalWork conducted the ninth annual conference in Orlando, Florida. This conference was conducted to introduce new eClinicalWork updates, complete insight into the working of this software with new products launched and the ways it will transform the billing system. Our company heads became a part of this conference with around 4,000 attendees. This conference offered a complete insight into the working of the eClinicalWork software which helps medical practitioners in managing the entire revenue cycle effectively with no lag time or turn arounds.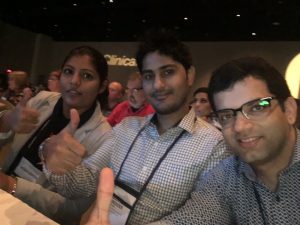 Reason to Conduct
The conference began with an impressive opening on 21st of October. These conference are conducted by eClinicalWorks every year not to equip the eClinicalWork software users with the innovation ways to tackle these problems successfully with the help of interactive sessions.
Indeed, it was an extraordinary weekend of not only learning but networking too. There can't be a better substitute for face to face meetings as it helps in exploring new areas but also in sharing information among all the participants. There were medical professionals, billing supervisors and practice managers from around the world.
The second day of the conference kicked off with filming three podcasts. These podcasts includes ICD-10, managing hypertension and Patient portal. The third day session included tips for bridging gap between providers and payers. On the last day of the conference, attendees were allowed to try their hand on the featured product with the eClinicalWorks' staff.
In a nutshell, it was a week of innovation, networking and learning.
How helpful this conference is?
Medphine has served numerous medical facilities for years and to offer our clients with complete reimbursements, we keep a tab on all the updates of the eClinicalWork software. We help medical practitioners who face hard time in training their staff on eClinicalWorks.
We help you in managing all your technical denials, outstanding AR and leverage all the reporting feature of eClinicalWork software in an effective manner.
We have seen that most medical practitioners can easily imagine remedies for their problem areas but crafting these solution becomes daunting. This conference through product demonstrations, panel discussions and breakout sessions help in providing direct troubleshooting solutions.
These conferences helps in operating the practice management software with more efficiency than before. The added features are striving towards fulfilling the aim of improving healthcare. Medphine has even planned the strategy on how to implement all the gathered information into our revenue cycle management practice to enhance the financial performance.
How far we can go with this?
These conferences are held every year in October. Mepdhine strives to offer proper governance  by attending conferences and workshops to derive proper reimbursement to their clientele.
There are times when EHR software do not offer you with customized and flexible solutions to all your requirements. This is the worst scenario when practitioners buy high expensive practice management software but can't reap the benefits. In these cases, you need a coding and billing partner who possess an expertise in all these areas.
The modules of eClinicalWork software helps medical providers to review health records of patient which includes records of past visits, allergies, current medications and diagnostic test clubbed with managing patients accounts and verifying eligibility. Are you aware of all these perks? If yes, then how you are planning to reap the complete benefits? Medphine posses specialized and dedicated team of professionals who are keen to deliver the best deliver in revenue cycle management. With our vast experience, dedication and sincerity towards our work, we offer you with best solutions to heal your revenue cycle. We strive to become the best medical billing company by keeping tab on every single update of the practice management software. We are best at what we do and help you to do what you are best at.