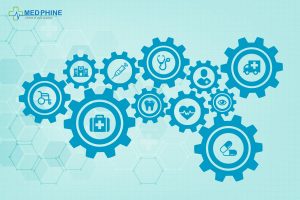 Per the Global Market Insights analytical report, the Global Healthcare Data Interoperability Market will surpass USD 3.5 billion by 2025 with North America expecting a compound annual growth rate o of 8.8%. Semantic Interoperability is anticipated to escalate at CAGR of 9.5% in the forecast period, and cloud-based healthcare interoperability market is also expected to grow significantly in the coming years.
WHAT IS INTEROPERABILITY?
HIMSS defines Interoperability as the parameters that describe the extent to which a data can be exchanged between system and devices and how the shared data is interpreted. Two systems are termed interoperable when they are able to transfer data and subsequently present the data in a manner that the users can easily comprehend it.
By the term system, we mean various healthcare entities associated with the patient, whose ultimate aim regardless of their individualism or vendor objective is to dispense quality treatment and care to the patient in a prompt manner. The information can be shared between the healthcare providers, hospitals, patients, pharmacies, laboratories, professional as per the use of standards and data exchange models.
Interoperability is segmented into three aspects: technical, structural, and semantic.
Technical Interoperability, also known as the functional level of Interoperability involves basic standards of data exchange between the health IT department. This does not facilitate the interpretation of the data.

In structural Interoperability, the data can be shared/ exchanged and easily understood. To ensure that the clinical and operational data remains constant, a structure is adequately created. Also known as synthetic Interoperability, one of the most common examples of it is message protocol.

Semantic Interoperability facilitates not just sharing/exchange and interpretation of the data but utilization as well. Healthcare information can be easily shared between various solution at the semantic level.
HOW DOES IT IMPACT THE HEALTHCARE RCM?
With the aim to establish and strengthen transfer of data and communication, efficiently, throughout the hospital network, Interoperability puts into question the capability of the different computer and software system to quickly exchange and share data between the critical department of the healthcare facility.

Interoperability is becoming essential in the healthcare landscape where every second wasted in finding compatible devices and system to share and exchange data is lost productivity and revenue.

Also, with the technological advancement, the threat of cyber attacks have also increased manifold, which is where interoperability access to only authorized personnel makes sure that the data thus shared and exchanged go into safe hands. Data on an interoperable network is shared/transferred through a secured device, so that no matter the magnitude of the sensitivity of the data, will be protected, thereby ensuring patient privacy; ensuring clinical staff that the patient's PHI is well-secured.

With Interoperability reducing the time that goes into having a meaningful conversation between the provider, or the doctors and the patient, facility's staff will be able to devote more time into devising a more effective treatment plan for the patient, delivering at par treatment and care.

Since Interoperability enables sharing of data anywhere and anytime, in a timely manner; this saves not only the time and effort but also the money which would be otherwise spent in performing unnecessary tests while waiting for the data to be shared or exchanged.

The controlled yet easier accessibility to critical details such as patient's data in the EHR has increased the patient engagement, leading to better results as patient involvement is necessary for enhancing the efficiency of the healthcare organization's processing and revenue cycle management.

Interoperability enhances patient safety and quality of care, with the prompt delivery of patient's clinical data to the medical practitioner in need of it.

With the providers, doctors getting data at a relatively faster rate and on a consistent basis, regardless of the source, the healthcare staff will be able to make a quick and well-informed decision about the patient and their treatment plan.

With Interoperability reducing the need for manual data input (where data is only entered at the beginning), the possibility of errors and illegibility gets decreased significantly.

Outdated communication technologies lead to massive wastage of time, which can be utilized in treatment and care of the patients; but with Interoperability, data is easily stored, logged, and accessed, thereby increasing productivity.
Despite it being a relatively new concept, layered with complexities that are still being researched upon, Interoperability of clinical data has been able to deliver successful results in the healthcare system of certain countries such as :
On the order of the Ministry of Health in Mexico City, 30 hospitals in Mexico are functioning via a secure, interoperable network. This has entirely transformed the patient care process in Mexico city, as it has:
Increased patient safety;

Enhanced the quality of continued care;

Reduced the costs that go into retesting;

Increased efficiency of the entire healthcare system
BARRIERS TO INTEROPERABILITY THAT MATTERS
But despite the many success stories since its inception and implementation, there are several barriers to healthcare interoperability; some of which are:
Healthcare practices severely lack a single standard for sending, receiving, and managing information between health systems. Although different standard development organizations create, define, update and maintain different health standard systems, there is no universal standard for capturing, transmitting, receiving, storing and managing patient data which then causes delays and leads to errors.

Since each information is stored in different ways in different systems, identifying patients consistently becomes a challenge. No matter if the data is shared over an extensive network of providers or across a large healthcare system, patient identification is still a struggle which has resulted in increasing inefficiency in data sharing/exchange, escalating healthcare facility cost and increasing vulnerability to the patient's safety threats.

The federal administrative, reporting and documentation requirement has burdened the healthcare IT system, into performing functions that do not hold any meaning; are irrelevant or adhere to outdated evaluation and management guidelines.
WAYS TO IMPROVE INTEROPERABILITY
Before sharing data with other facilities, it is essential to first resolve internal conflicts with the EHR software, staffing, and supply chain;

Patient matching can be improved by adopting common baseline standards;

A patient-centric approach with the collaboration of the providers, developers, healthcare organizations and payers can help with patient identification;

The expectation for Interoperability can be integrated by collaborating clinical software, vendors and developers;

EHR usability and Interoperability can be improved by a strategic collaboration of vendors and physicians.
Let's see how Interoperability is further going to advance and improve the efficiency of the healthcare system!