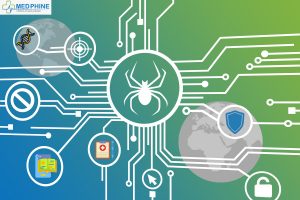 "Because of the wealth of data that healthcare providers hold, breaches and compromises can have far-reaching consequences for consumers, and the valuable research being conducted within some of these institutions continues to be an attractive target for nation-states seeking to leapfrog their domestic industries, the report noted."
It won't be an understatement to say that the healthcare industry is plagued with cyber risks. The intensity of cyber threats in the healthcare industry is increasing extensively. While the Centre for Medicare and Medicaid Services along with HIPAA are periodically updating their cybersecurity system for minimum breach, it is not enough. 
Why? 
Because as we are updating the cyber shield for maximum protection, the cyber thieves are similarly coming up with new and more ingenious ways of attacking and stealing patient-related health information from healthcare systems. 
Healthcare relies heavily on technology; right from setting up appointments with the doctors to streamline the treatment and revenue cycle management, everything is operated and maintained with the help of technology. Data is updated on electronic health record systems, and procedures are performed with cutting edge technological equipment. But with the growing demand and use of technology, the vulnerability of getting attacked "any second now" is also snowballing. 
Healthcare organizations around the nation are always under the risk of losing their data or getting duped into paying cryptocurrencies or ransom of some sorts. This severely threatens the patient's treatment and care. The entire healthcare industry is a precondition for cyberattacks, at the moment, with problem being, our lack of understanding as to how and where should we incorporate prevention systems in? 
There is no doubt that interoperability can help with delivering more accurate results, dispensing quality care and treatment to the patients, and significantly saving on time and money. But with systems and networks of entire healthcare organization connected to provide seamless communication, it has also been identified as a growing area of concern. Per statistical reports, 55% of American healthcare organizations have faced cyberattacks, with almost 1/5th confirming they have been attacked as recent as within 12 months.
While the healthcare industry at large is dealing with a multitude of cyber threats ranging from phishing to ransomware, the need of the hour is to stay updated with the latest cyber risks and accordingly transform your system and infrastructure for paramount safety and security. 
A common yet prominent security threat, ransomware is still able to propagate and infiltrate networks connections with phishing. A problem that affects the healthcare system internally as well as externally, ransomware needs the right balance of technology and manual assistance to nip it in the bud. 
While they have undoubtedly helped with seamless communication across the various verticals of the system, interconnected devices are highly vulnerable to cyber-attacks. Most of the IoT devices lack the ability to block a malicious connection request or signature. This lagging endpoint security agent poses severe security and technical challenges. 
Similar to IoT, there are several unmanaged components and unsecured mobile devices being used for exchanging information across different entity of the healthcare system. Mobile devices have their own set of threat which adds to the healthcare security challenges.  
Educating and keeping employees on the same page with the latest developments in cyber risk and security processes is still a task for healthcare organizations. We need a well trained, understood, and prepared staff for tackling security issues, at least at the surface level. 
What is the update on the cybersecurity? 
As of 2019, what the authorities governing compliance and security wants the healthcare practices around the nation to understand, and address is the facts that cyber threat is no longer just about data. Cyber thieves have expanded their scope, moving on from data theft to extortion, or luring healthcare employees into phishing scams. 

FDA

recently released a document, ahead of its Patient Engagement Advisory Committee, wherein they stated that they aim at and are working on devising a process that will trigger an alert every time it will identify a trigger. They also want healthcare practices to start introducing patching capability into the product designs for better cybersecurity management. 

Moving on to NIST cybersecurity framework and HICP can help bolster the cybersecurity efforts, mitigating possibility of attacks. A set of protocols, guidelines, including what healthcare facility can change in their routine, these flexible and scalable frameworks can help with easel identifying, shielding, diagnosing, responding and recovering from cyber attacks of varying intensity. 
Destructive cyberattacks are looming around the corner of every healthcare organization. We need a robust and meticulously devised cybersecurity plan that can effectively minimize the frequency and severity of the cyberattacks in the initial stage. While this is still going to take some time into materializing, healthcare facilities can incorporate certain practices that will help minimize the susceptibility:
Healthcare organizations are associated with financial and governmental matters, which makes it extremely important to stay alert, safe, and secure as possible. 
By implementing threat intelligence, the healthcare organization will be able to make a more informed decision regarding the allocation of resources. It also makes analysts capable of quickly respond to any and every security mishappening. Its ability to promptly identify the trigger helps in taking quick action and minimize the losses. 
Create a handbook of incident response plans with carefully detailed guidelines for detecting and responding to critical situations can help in educating the staff. This will be mainly of help to medium and large healthcare organizations who are relatively more prone to phishing attacks. 
No matter how secure your firewall system is, cyberthieves have a way of sending across such attachments and messages that will circumvent your filter, ending up in your system and corrupting it. To avoid the possibility of any ransomware attacking or stealing any sensitive information, you should implement automatic sandboxing, wherein once delivered; any attachment is only opened and accessed in the virtual environment. Without letting it so much as establishing contact with the device, sandboxing, depending upon the behaviour of the file, checks whether or not the file is malicious. 
UPDATE CYBERSECURITY SYSTEM:
While there are several latest technologies that can minimize the extent of damage done by cyberattacks, many organizations, still, at large are utilizing out of date software that has gaping security holes, waiting for a breach disaster to happen. It is imperative that these systems are periodically checked for and updated with the latest tools and technology in the market, for maximum protection. 
Aforementioned are some of the many proficient cybersecurity practices that can help strengthen healthcare organization data across the cyber world. We need a more holistic approach to tackling this issue from its foundation and mitigate threat across mobile devices, endpoint system, email system, networks, asset, etc., in an effective manner.