A doctor's day is spent dealing with patients and the administrative responsibilities. Not only these responsibilities burn out the physicians very soon, but they also take away the attention of the doctor from their primary task which is to give attention and care to their patients. Taking care of both with great care is impossible. That is where an outsourced medical biller comes in handy.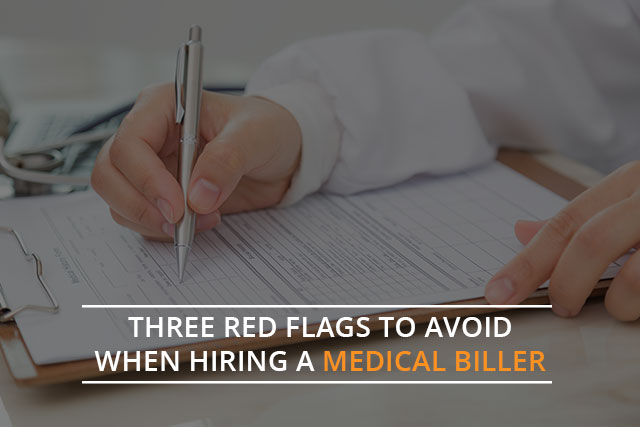 You need a medical biller for the following reasons:
You will get the expertise of a professional.

There would be fewer denials, as a result, you will get paid faster.

The cash flow will get regular as your billing partner will be working exclusively on your finances.

You will cut cost, and you will receive improved efficiency from your team and yourself.
You can read about it in detail here.
Before bringing a medical biller on board, you need to take care of specific factors. It is a significant decision for your medical practice. Since handing over the finances to an outsourced party is not a natural process, you must keep your eyes open for certain red flags. Let us have a look at three factors that you need to avoid before hiring a medical biller:
Work comes. First, money comes next: Beware if someone is trying to sell their services in the name of low cost. Your primary motive of outsourcing your medical billing is to get expertise and ease in y9our business. Don't get fooled in the name of money. If your billers are talking about their services, efficiency or the process, then they might be trying to con you by luring through money. Question about the process of shared information and everything else that would help you in a smooth transition.
Your Reputation is precious than money: You must have a billing and coding partner only after checking upon their previous work. For this matter, you can also ask them for the references of former physicians that they have worked with. Make sure that you have a contract with your billing company which has three crucial factors mentioned that is: indemnification, insurance, and termination. You must spend some money here and hire a lawyer to review all the contract clauses so that you don't participate in any fraudulent activity.
Be careful about legal regulations: Usually, all the medical coding and billing needs heavily scrutinized regulation and coding rules. But it is not necessary that all the companies are following the directions. There are a lot of small medical billing companies that disregard the regulatory standpoint. You must ensure that the people working on your finances are not only certified but they also have knowledge about any ongoing changes in the coding system.
It will be a nightmare for any physician if you get a medical billing partner who is incompetent. You would like a person who doesn't give you justification for the failure but the results. If you find any of the above written red flags in your medical biller, pay attention and take swift action.