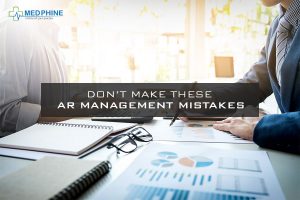 IMPORTANCE OF AR MANAGEMENT
Account receivables follow-up play a crucial role in the medical billing and coding process, ultimately impacting the revenue cycle. They make sure that the insurance providers pay the payment owed without disrupting the flow of revenue cycle. With the aim to reopen a denied claim to get maximum reimbursement, the job of A team is to identify and analyze the claims listed on the aging report. After prioritizing them into collectibles and payment not made, the team has to post the payment details of the collection and then proceed with collecting the amount. An effective AR cycle:
Ensures proper follow up of denied claims;

Timely recovery of claims;

Minimizes the time for which the payment of the account remains outstanding;

Provides financial stability to the healthcare facility;

Claims will never go missing as it will ensure that the claim is timely received. 
Despite its significance in ensuring a healthy revenue cycle management, many healthcare facilities end up making grievous mistakes when managing their AR cycle, some of which we are going to list so that you stay can avoid them going forward:
COMMON AR MANAGEMENT MISTAKE
If there is no dedicated team of AR members to take care of the account and claims properly, then it can haywire your entire finance, increase the debts, become the cause of poor patient experience. Lack of AR management can be detrimental to your practice's reputation and financial health. 
WRONG COLLECTION PROCESS:
Going for a one size fits all approach with claim collection and management will do more harm than good. How every medical practice is different, so should be their ways of managing AR. Strategizing without understanding the process and the risk involved in AR management of your healthcare practice, you are only harming your practice's future. 
NOT PRIORITIZING ACCOUNT RECEIVABLES:
While it's understandable to overlook payment collection in good faith of providing quality treatment and care, but just keeping faith is not going to supplement for the financial loss that your practice might face due to bad debts or not adequately managing the AR cycle. You need a smooth flow of money which can only be ensured by fostering a sought after culture of collection. 
Not all write-offs are necessary, and they only contribute more towards denied claims, which is why it is vital that every application is adequately reviewed until you are sure. Often, it has been observed that the payment options have been exhausted and this has gone unnoticed by the team, leading rejection or them having to pay for it from their pocket. 
These mistakes can be prevented and their impact can be mitigated by approaching the AR cycle differently. Keeping that into consideration, we have listed down a few tips to better manage the AR cycle, for enhancing the efficiency and ensuring timely collection. 
TIPS TO AVOID THESE MISTAKES AND ENHANCE ITS EFFICIENCY
HIRE PROFESSIONAL AND ADEQUATELY TRAIN THEM:
Make sure that you only hire certified professional for your billing, coding, and other healthcare financial aspects to ensure smooth processing and maximum accuracy. But that is not enough to efficiently manage your AR cycle. You will have to dispense proper training to keep them up to date with the latest tools and technology that can help simplify the AR management. 
MAKE YOUR FRONT DESK STAFF AND MANAGEMENT EFFECTIVE:
Your front desk staff deals directly with the patient and the insurance companies by communicating with them through various modes. They will be of more knowledge regarding the issues that are causing blockage, which is why to make sure that they are well trained. It is necessary to communicate with them periodically to immediately identify the problem so that you AR days don't get delayed. Observe the workflow, determine the loopholes, and fix them to ensure timely collection and reduction in AR days. 
PROPER DATA COLLECTION AND MAINTENANCE:
Make sure that every information you collected from the patient is accurate and up to date so that the claim process goes smoothly. The automated data collection and processing accuracy would help reduce the number of AR days, helping you receive payment on time, so that your practice operation is not disrupted. Aside from documentation, it is vital to keep a check on who is authorized to access and modify it. Data collection, management, and security should be centralized for enhancing efficiency, productivity, and revenue generation.
Right after the doctor is done with the treatment, and the patient has left the facility, the finance team should make sure that the invoices are sent at that time, and there should be no delay. Make sure that the billing specifications are accurate and all the policies are well communicated so that there are no delays due to miscommunication. The longer it will take for you to send out that invoice, there would be more delay in your payment. Remember to go for electronic billing and not the manual processing, as it will be prone to error and will lead to further delay in reimbursement processing. 
STRATEGIZE MANAGING AND REDUCING REJECTED CLAIMS:
One of the primary reasons for the revenue loss in healthcare organizations across the world has been claims that either get denied rejected due to a mistake on the part of the team managing it. Not adequately addressing and resolving them will lead to piling up of denials, resulting in clogging up of account receivables. Strategize and implement a comprehensive solution that promptly identifies the cause behind the denials. Implementing effective strategies can help in monitoring the contracts, tracking the claims, thereby reducing AR days. 
Account receivables are a crucial part of the healthcare financial process, which is why we see an increasing number of facilities opting for outsourcing their AR cycle management to a credible and experienced medical RCM agency like Medphine. Our AR analysis and policy experts will provide a comprehensive solution for smooth cash flow without any disruption of denial claims. From pulling out aging reports for different age bars to identify and resolving the cause of applications that are getting dried, our industry professionals will ensure that your AR cycle if efficiently managed it in a manner that your practice will see an average increase by 20%. 
Get your clogged revenue cycle cleaned by Medphine AR experts!
Reach out for a free 30-day trial with no long term contract obligation, today!