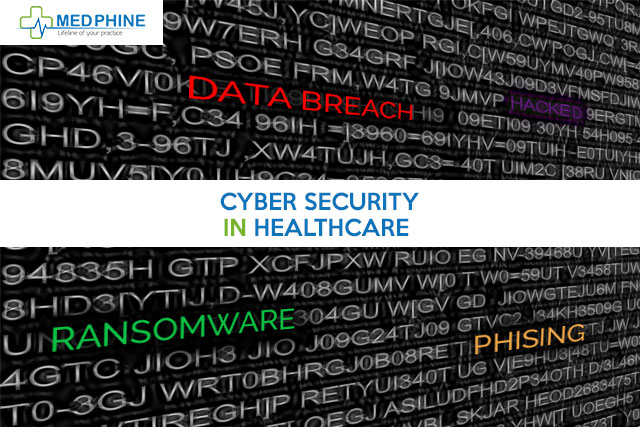 First, there was the need for healthcare; then it evolved into quality healthcare which could not be achieved without investing inordinately in the healthcare system. Then the  inception of the digital revolution and the emergence of new technologies led to a reduction in healthcare expenditure.
Digitization has undoubtedly transformed the healthcare sector making healthcare accessible to masses. The continuous technological advancements such as blockchain, big data analysis, and artificial intelligence are playing a pivotal role in making healthcare effective yet cost-efficient.
But while this digital revolution has massively transformed the way patients are treated and cared for, this has also made healthcare services highly vulnerable to cyber attacks. Of all industries, healthcare organization is an easy target for cyber-criminals.
Healthcare service providers have extensive data on patient's information which is sensitive. This data, which contains personal information among other criticality is vulnerable to identity theft and breach. A data breach can have a detrimental impact on the healthcare service provider's reputation, for instance, if the patient medical history gets exchanged, the patient could be treated for the wrong ailment.
Per CSO online article published in March 2018, healthcare, the second largest sector in the US economy, also experiences twice the number of cyber attacks than other industries.
What are some of the common gateways for a cyber attack?
Although healthcare practice and service providers are seen increasingly adopting endpoint and network security, this deployment is not effective in keeping external threats at bay and safeguard the data from a privacy breach.
Patient access medical information across various platforms, smartphones, laptops, etc. ensuring security across platforms and devices would mean having to strengthen security across all devices, which is not possible. An increasing number of IoT devices are being utilized in the healthcare system, which further increases the risk of data security.
A healthcare service provider gets complacent with the software they are dispensing the treatment with and overlook the regular updates,  which makes the healthcare system vulnerable to attack. Every update fixes a security loophole and patches, strengthening the security of the system even better than the previous version.
Every day we come across news of a healthcare practice's patient information being put up online, the reason behind this being the inability to control access to safeguard patient's data. A terminated employee might seek revenge, which is why it is pivotal to implement Electronic Healthcare Record software that makes it easy to control access to information.
Failing to review or perform risk assessment tests on a regular basis makes the system vulnerable to a host of new and powerful cyberattacks.
What are all the cyber attacks, healthcare organizations are vulnerable to?
Weak password and unencrypted devices can leave data susceptible to attack from cyber-criminals. Predictable passwords such as "healthcare name123" or "098765", make the organization's data vulnerable to password spray attack. These attacks target the cloud-based application and single sign-ins where the attacker tries one common password on multiple accounts before trying the next password, resulting in financial loss and risking sensitive data.
Files infected with malware and ransomware can result in server and network shutdown. In adverse cases, the cyber-thieves ask for a ransom in bitcoin to decrypt the data.
Encryption was implemented in healthcare systems to protect sensitive data that is being communicated across the network. But now with the technical advancements, cyber-criminals are encrypting malware and viruses and masking stolen data with encryption.
What can be done to strengthen the healthcare practice's safety and security?
A step towards safeguarding patient sensitive information is to inspect the incoming and outgoing encrypted data to ensure that the transfer between the network is safe.
Instead of endpoint and network securities, healthcare practices should focus on structuring and strengthen their end to end cybersecurity.
Create a strong password, and make it a point to keep updating it after a regular interval, to strengthen data security. Also, it would be never to store the password in shared documents. Delegate one person with the responsibility to take care of it.
Network segmentation can help in easy identification and isolation of threat before it advances and affects another department, thereby minimizing the impact of the cyber attack, especially that of ransomware.
Regular backups and installing a firewall will improve the cybersecurity of the healthcare system. Annual risk assessment and security testing can help you give a realistic view of how safe is your healthcare system and what can be done to defend the threats, if any and further strengthen the cybersecurity per latest cybersecurity trends.
Strategize a cybersecurity environment and introduce, educate and train the healthcare practices staff to it on a regular basis, so that they better understand the importance of data. Nurses, doctors, and medical personnel should be trained with proper tools and techniques to protect data critical to the healthcare organization.
Medphine's trained and certified billing and coding experts implement RCM strategies adhering to the safety and security protocol laid by the national authority. We understand the value of privacy which is why the strategy implemented by Medphine are compliant to the latest HIPAA rules, ensuring 100% security to the client's health care service record, before, during and after the claim processing.
You can trust Medphine's capable staff in dispensing qualitative services with our comprehensive revenue cycle management solutions without compromising on safety and security of your healthcare practice.
Transform your healthcare practice RCM with Medphine!
Are you concerned about the quality of the service?
Request our risk-free 30 days free trial with no long term contract, today!