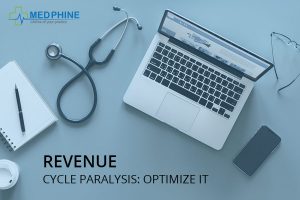 With the continuously evolving healthcare policies,  including more patient responsibility and increasing the intricacy of the already complex healthcare landscape, ensuring a sound revenue cycle management is becoming a  back-breaking task for the healthcare operators around the nation, but there is no scope for mistakes. Practices and providers have to ensure that billing and claim management is smooth and their rate of collection keep increasing. It is essential for the providers to define and work on improving the KPI's such as clean claim rate, denials, and account receivable days, regularly to avoid the possibility of revenue cycle paralysis.
What is revenue cycle paralysis, you ask?
It is the inability of the healthcare practice to deliver quality work at the right time, without compromising on their financial health. Another widespread definition of the same is when the ability to take a swift and accurate decision paralyzes, because of the inability to cope up with the delegation and processing of bulk of data and insurance claims. This brings the entire medical RCM to a halt, subsequently disrupting the claim processing and adversely impacting the financial health of the healthcare organizations. 
The inability to timely structure, submit and process the claims will lead to further delaying the processes, and probably ceasing the workflow, if this continues to be a habit. One of the foremost reasons for revenue cycle paralysis is inadequate eligibility verification of the patient, which most of the time is the culprit behind the denied or rejected claims. Then there is a plethora of information with conflicting conclusions that makes the matter even more complex. 
So how does a healthcare facility overcome the revenue cycle paralysis?
It is important to identify the problem areas, which would be different for a different healthcare organization and then devise an optimization technique to improve the revenue cycle effectively:
TIPS TO OPTIMIZE THEIR REVENUE CYCLE MANAGEMENT
EMPOWER PATIENTS:
While an ill person will ultimately visit a healthcare facility, the question is, "Which one," the answer to which will be where they feel more engaged. When a patient is engaged, they feel it as their responsibility to promptly reply and coordinate with the medical staff, which lessens the load off the facility. An empowered patient is a crucial determinant in ensuring smooth RCM workflow. You can start off by ensuring minimum patient show, for which you can make your booking practice more convenient by creating a patient portal online, thereby streamlining appointment scheduling. This will ensure a constant revenue stream, which will especially come to rescue in times when the insurance company is taking longer to clear the payments, or there are cases of lost revenue. 
EVOLVE:
Healthcare industry is fiercely competitive, and while it might look overwhelming, but you can not do without implementing and adapting to the changes in healthcare technology. This is ultimately going to benefit your revenue cycle management in the long run, as it ensures staying relevant with the healthcare market, heightened accuracy, faster processing without compromising on the quality of the cash flow. Make sure to add all the possibilities of the newly implemented technique in your optimization list to serve your patients in a better manner. 
CLAIM SCRUBBING:
Claim scrubbing means identifying the missing, inaccurate fields to mitigate the possibility for claim denials. Denials can be reversed by automating the auditing process to check for and rectify any discrepancy in the ICD10 codes, missing information, filing problems, and more. 
PATIENT ELIGIBILITY:
While it might sound tiresome, having to go through the entire process, if the claims get denied, is nothing in front of it, and you do not want that. Make it a habit to reconfirm the eligibility status of the patient every time before admitting them. The automated system can further the processing by keeping a tab on the policies to save significantly on time and money.
PAST DUE BALANCE:
Past due balances, which are a result of claim denials, and mostly overlooking the billing, leads to the loss in the revenue. Dispensing proper training to the staff can help adequately collect accurate past due to balances in a timely manner. This will make sure that the patient does not feel victimized and are always willing to coordinate to make sure that the payments are timely made, hence enriching patient's experience. 
DECLUTTER:
To be able to make a well-informed decision, its important for the healthcare organization be proficient in eliminating the bad option and decluttering the system. 
OUTSOURCING RCM: A BETTER OPTION OVER MANAGING REVENUE CYCLE PARALYSIS ON OWN
Dealing with revenue cycle paralysis and other such healthcare management issue requires extensive knowledge and experience, which is why it is suggested that healthcare operator, no matter, be it a hospital, pharmacy, or billing company should outsource medical RCM to an abled medical billing and coding company such as Medphine. 
We offer a wide range of comprehensive services, right from front desk support, to appointment reminder, to insurance verification and specialty-specific billing and coding by certified professionals. With the aim to minimize the operating cost, claim denials and maximize the collection and return on investment, Medphine's dedicated RCM managers work towards streamlining the entire process and speed up the payment process, whilst ensuring content monitoring for prompt resolution of any error. 
Why strain your in-house staff with financial matters, when their potential can be better utilized in delivering quality care and treatment? 
Why risk claim denials with the limited knowledge of the in-house staff, when you can have certified professionals at your beck and call,  providing accurate and appropriate solutions to every RCM issue, minuscule to significant?
Why invest in in-house training team periodically, and buy all the tools and technologies when these can be outsourced as and when needed?
Medphine will guarantee the accuracy, supreme quality, up to date compliance and a higher return on investment in every transaction, freeing you from the trouble of worrying about whether or not right and effective submission and processing have been done. 
We believe in delivering quality and success, which is why we are offering a free, no-obligation consultation. Unlike any medical RCM agency you will find, we are proffering these services without burdening you with any long term contract restriction. 
Reach out to Medphine's consultants today!