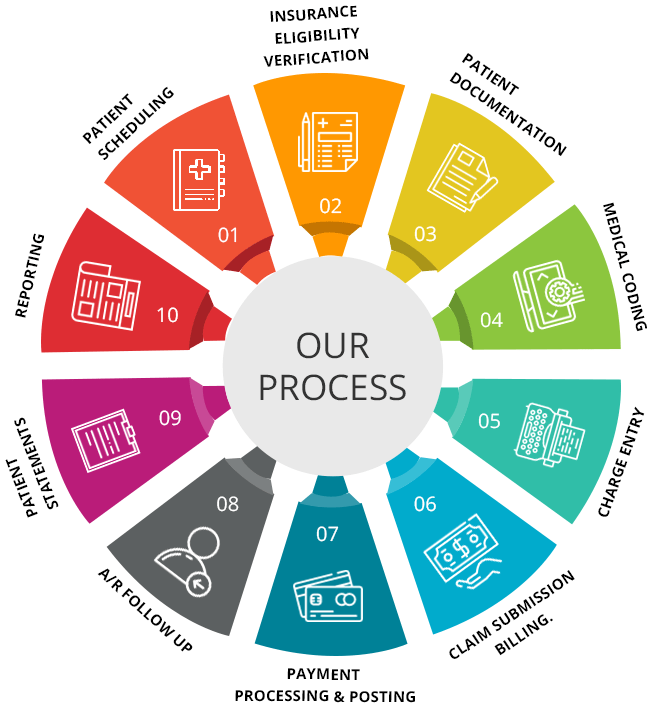 Revenue Cycle Management is a complex process but it is essential for the things at your medical practice run smoothly. It needs an eye for detail at every stage to ensure claim is error free, when this happens a claim has to go through the process once and it drastically speeds up the time it takes for the claims to be paid but a mistake can lead to an inconsistent flow of payment. That is why it is so important to work with experts.
For every business to run smoothly and keep growing it is important that certain practices are followed rigorously, the Medical Billing process is no different. 
Below are 10 Steps, if followed efficiently, it can reap better revenue generation.
Patient Registration: Generally followed for new patients only where we capture patient's personal information like age, sex, address and phone number etc. Also, insurance related information such as policy ID, name of insurance etc; however, we highly advise for a quick check every time a patient visits the office. It allows to maintain accurate data and to keep the system up to date with the information, as it is documented on the claim to insurance and any error might lead to a denial or rejection which will delay the payment further.
Insurance Verification: Prior to the services provided, verification with insurance about whether policy is active, services are covered and any authorization requirement helps in determining responsibility of payment whether it will be insurance or the patient will have to pay from their own pocket. Generally insurance websites provide the information but details gathered on call can later be used to fight claims in case of any denials.
Encounter: Terminology used for meeting between the patient and provider, where patient explains the problem and provider evaluates patient's condition to make a judgment which will help patient cure. It is a recorded session either by the means of audio or video technology. Ensuring the details are captured properly and the session is well recorded, claims can be perfectly prepared.
Medical Transcription: Professionals listen to the recorded session and document information into a medical script, later used to complete and maintain patient's health records. This must be an error free process, documents updated are later used in future follow ups, provider refers to these documents to provide care and any incorrect information will jeopardize a patient's medical history resulting in incorrect decision making.  Not only that, the document is also used for billing purposes so if there is any wrong information it will reflect on the claim too.
Medical Coding: According to the guidelines of American Medical Association a team of professionals read the document prepared from the recording and convert relevant information like where was the service provided, what was the reason for visit, what measures did the provider took to cure the present condition etc into numeric or alphanumeric-codes. It is required because first they are easy to understand and second it is a mandatory requirement.
Charge Entry: Expense incurred to provide the service or the maximum collectable amount is added to the charges coded by the coding team, this is one of the steps to prepare the claim form required to be submitted to the insurance company, without the defined value one cannot collect the payment for it. Professionals monitor the system to make sure correct value is added as an error may lead to reduced payment on the claim.
Claims Transmission: After successfully creating the claim by adding patient information, provider information, services provided etc, claim is now ready to be submitted for reimbursement. Technology has allowed us to transfer data electronically, whenever claims are submitted through EDI (Electronic Data Transfer) there are 3 levels that claims has to pass in order to successfully be accepted by the insurance, below are the steps:

A. Scrubbing: EHR Software performs a check to ensure all the fields on the claim form is filled and depending upon the configuration it will check for certain coding related issues.
B. Clearing House: A third party vendor responsible for EDI performs checks on the patient information such as active date of the policy, name and DOB on the claim, possible coding errors.
C. Insurance Rejection: Prior accepting the claim for adjudication, insurance performs a quick check same as clearing house to ensure patient information is correct, policy is active and is there any general coding error.If there is any mistake or error found at either of these levels claims is returned stating rejected. Possible checks and corrections based on the information relayed can help claim clear these levels.
Denial Management: Insurance will only process claims received within their specified time limit. Once accepted they run the claim through a process called adjudication, applying certain checks on the claim they decide whether to pay the claim or deny the claim, sometimes they partially pay the claim while denying the rest of the charges. Professional handling denials prioritize the claim with time left for submission to insurance and amount left to be recovered ensuring maximum revenue generation. They monitor denials to find trends of denial and taking corrective measures to ensure future claims won't be denied.
Account Receivables: These professionals handle the claims denied by insurance and not being paid even after corrective measures were taken to make the claim pay. They concentrate on rigorous follow up with insurance companies collecting information related to the denial, investigating and coordinating to maintain payment flow. They share correct information with teams like Insurance Verification, Coding and Charge Posting for future claims. They are also responsible for handling and maintaining in and out correspondence with insurance.
Payment Posting: Once the insurance decides to pay the claim, they release the payment either in form of paper check or electronic fund transfer which is mostly bulk payments and along with it they share the summary which is known as Explanation of Benefits (EOB) or Electronic Remittance Advice (ERA). Professionals handling the payment are responsible to post the entries in the EHR and tally the payment received.
Medphine provides all these services and more at very affordable prices to healthcare providers nationwide. This list above is a condensed version of the ten most prominent tasks performed in healthcare revenue cycle, most other tasks that following this process such as payment reconciliation, patient statement, financial reporting etc. are derivatives and only a successful execution of these key tasks with proper accuracy in keying the information and diligent followup with payers can assure the best financial performance for any medical practice.
Would you instead prefer a trial service first to see how we do what we do?
Try Medphine's 30-day risk-free service without any obligation of signing a long term contract and watch as we escalate your healthcare practice profit.